Two Milford teens killed in accident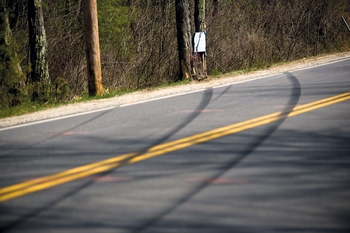 NEW BOSTON – They were described as best friends, all funny kids who got along with others at Milford High.
Two of those Milford teens, Gage Lafontaine, 16, and Alex Betty, 16, were killed in an accident Monday night on Route 13 in New Boston, just north of the Mont Vernon town line. The driver, Milford High School 10th-grader, Gino Olsen, 16, of 262 Mason Road, Milford, remains in critical condition at a Boston hospital.
Olsen was thrown from his 1999 Volkswagen Jetta during the accident. The two passengers were pronounced dead at the scene.
Olsen was first taken to Elliot Hospital, and he was later moved to Children's Hospital Boston.
Olsen works at the Milford Super Stop & Shop, said manager Mike Howard. Howard said his thoughts were with all three involved.
Betty was a lifelong Milford resident and was also a sophomore at Milford High. He worked part time at Papa Gino's in Nashua.
Betty played baseball for the Milford Community Athletic Association and on the Milford High junior varsity team. Betty was an avid Red Sox, Celtics and Patriots fan and enjoyed skateboarding, water parks, amusement parks and especially loved the roller coaster.
Lafontaine was a hockey fanatic. He played for the Panthers Youth Hockey Association of Nashua and the Hollis Cavaliers Youth Hockey Association. He also enjoyed skateboarding and listening to all types of music.Nicole Edwards, 16, a student at Milford High, knew all three boys for about three years and said they were "really nice kids."
"They were funny and outgoing, they could make anyone laugh," she said in a telephone interview Tuesday afternoon.
It was their senses of humor that seemed to draw them together, she said. "They were funny, they always had a smile," Edwards said. "That's why they got along so well."
The car was traveling south on Route 13 at around 10:41 p.m. when it crossed into the northbound lane and hit a "grouping of trees," off the shoulder near 273 Mont Vernon Road, according to police. The speed limit is 50 mph on that stretch of road.
New Boston Police Chief Chris Krajenka said speed appeared to be a factor in the crash and stressed the investigation is ongoing. The accident was reported through numerous 911 calls, Krajenka said. He said he didn't recall an accident of this magnitude in that area in his four years at the department.
The three sophomore's names were posted on a memorial site at the crash scene.
While standing at the accident scene Tuesday afternoon, eighth-grader Ashley Clary gave a similar account of the students.
"They were all best friends," Clary said.
Milford School District Superintendent Bob Suprenant said the district was holding counseling sessions Tuesday and all day today until 8 p.m. for students and parents who wish to speak with someone.
On Tuesday, Suprenant said counselors and administrators are also planning a session for later this week for parents to help their children with the grieving process. Details are in the planning stages.
Anyone with information on the crash is encouraged to call police at 487-2433. Callers need not give their names.