Two hospitalized after apartment fire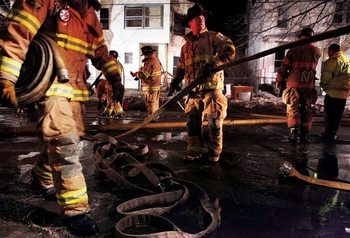 NASHUA – Two people were hospitalized after a fire broke out in a Chestnut Street apartment building late Friday night.
Deputy Fire Chief Mike O'Brien said crews responded to 48 Chestnut St. at about 11:21 p.m. Friday. Upon arrival, crews found "heavy fire showing from the rear of the building on the second floor," he said. A man and a woman who were occupants of the apartment were treated on scene.
The man was transported to Southern New Hampshire Medical Center for smoke inhalation. The woman was transported to Massachusetts General Hospital for smoke inhalation and burns.
O'Brien didn't have the names of either occupant or their current conditions, but said the injuries didn't appear to be life-threatening.
O'Brien said fire crews were able to keep the fire contained to the second-story apartment, which sustained significant smoke and heat damage. A first-story apartment also sustained water damage from the firefighting efforts, he said.
"There was smoke damage throughout some of the other apartments," O'Brien said.
Some parts of the building, described by O'Brien as a "very large multi-apartment building," remained habitable. It isn't known how many apartments are in the building.
The cause of the fire remains unknown, but it appears to be accidental, O'Brien said. The fire is being investigated, he said.
Michael Brindley can be reached at 594-6426 or mbrindley@nashuatelegraph.com. ing investigated, he said.