Tutoring center in Nashua shuts down, citing economy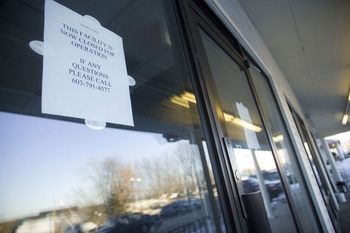 NASHUA – A local tutoring center abruptly shut down over the weekend, leaving parents searching for a new place to get extra help for their children in the middle of the school year.
Huntington Learning Center, a national company that provides tutoring for students ages 5 to 17, closed its Nashua franchise at some point over the weekend.
The building, at Sun Plaza on Daniel Webster Highway, was empty Tuesday. A sheet of paper is taped to the door with a phone number for parents to call with questions.
Russell Miller, vice president of business development for Huntington Learning Center, said the primary reason for the closing was a sharp decline in business, which he attributed to the slumping economy.
"We made attempts to bring in additional investors," he said. "Unfortunately, we just ran out of time."
The tutoring center had two full-time employees and nine part-time teachers.
Miller said there were no plans to keep those people employed. The next closest center is more than 30 miles away, and employees didn't want to relocate, he said.
"We're happy to consider applications at any other location," he said.
Cathy Cutter of Nashua enrolled two of her children, Abigail, 7, and Alex, 10, at the Nashua center at the start of the school year. Both were falling behind, and Cutter was looking for a way to get them caught up.
"Honestly, it has worked spectacularly," she said.
Cutter was in the area of the tutoring center Saturday when she saw people packing up boxes. She asked what was going on and was told that the center was closing.
Cutter was initially concerned about being reimbursed for the $8,000 to $9,000 she was owed for the rest of the year's tutoring services.
She said she received a call Tuesday from the director, who told her she would be fully reimbursed. She was also told she would receive an accounting of how her money was spent so far this year, as well as test results for both of her children.
Miller said all of the parents were notified Tuesday that the center was closing and procedures for how they would be reimbursed. "It is our intention to make sure that parents that we owed money to would be refunded," he said.
Nirmit Kachrani, the owner of the franchise, said the center usually served about 20 students at any given time. He didn't have any information on how much of a decline the center saw this year.
Cutter said she is already looking for a new tutoring service.
There are 370 Huntington franchises across the country, with 30 more planned to be opened, Miller said. One other center closed this year, in addition to Nashua's, he said.
Miller said he hopes that Huntington will be able to reopen the Nashua center at some point.
Michael Brindley can be reached at 594-6426 or mbrindley@nashuatelegraph.com.