Trial starts for man accused of rape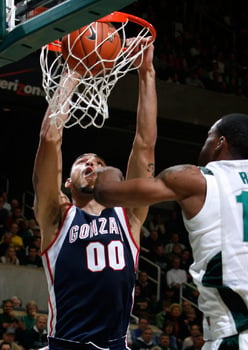 NASHUA – The trial of a city man accused of raping and molesting a preschool-age girl began Tuesday morning, as such cases often do, with lawyers for the prosecution and defense presenting vastly different versions of events based on the same set of evidence.
Richard Madore, 43, formerly of 59 Whitney St., faces six felony sexual assault charges, alleging that he raped and molested the girl in 2003 or 2004, when she was 3 or 4 years old, and another assault, sometime between 2001 and 2006.
Madore has been jailed since his arrest in 2006, and he stands to spend a good part of his life behind bars if convicted. His trial, in Hillsborough County Superior Court, is expected to last the week, at least.
Assistant County Attorney Patricia LaFrance told a simple tale. The girl's preschool teachers spoke with her after she began "acting out" inappropriately in class and then called police. The girl disclosed that Madore had sexually assaulted her, and Madore himself admitted it after several hours of questioning by detectives, who told him his DNA had been found in the girl's underwear.
That wasn't true, though police couldn't have known it at the time. The lab tests hadn't even been completed, one of Madore's lawyers, public defender Anthony Sculimbrene said.
The girl is only 9 years old now, and her account of the abuse would be short on detail, LaFrance warned jurors, but she has only ever accused Madore, and Madore is the only one ever to admit it.
On the contrary, Sculimbrene told jurors, the girl's older brother has also said that he touched her genitals when he was 12 years old. Sculimbrene told jurors they would find, on closer inspection, that neither the girl's accusations nor Madore's admissions were reliable.
"The closer you look at the evidence in this case, the less you will find. The closer you look, the greater your doubt will be," Sculimbrene said, adding, "Richard Madore is not guilty for the simplest reason: he didn't do it."
The defense will call experts to testify that the six-hour, 23-minute interview Madore gave to detectives includes many warning flags of a false confession, and that the girl's own accusations could be the result of suggestive interviews, Sculimbrene said.
What the state lab found on the girl's underwear, however, suggests that someone did something to her. The lab found "PSA," or prostate specific antigen, an exclusively male protein, produced in the prostate and found in the ejaculate of both prepubescent and adult males, Sculimbrene said. The fact that they found no sperm (or DNA) points to the younger culprit, he argued, though both sides concede there is no way to tell for sure.
Though jurors won't hear about it, Madore also is scheduled to stand trial Sept. 21 in another pending case, on charges of aggravated felonious sexual assault and criminal threatening. Madore is accused of repeatedly molesting a boy from 2001-05, starting when the boy was 8 years old, and of threatening the boy at knifepoint to keep him quiet about the alleged abuse.
Madore knew both the boy and girl, police said after his arrest, and police said they had no information about any other victims.
Prosecutors argue Madore should face up to life in prison and a mandatory minimum of at least 20 to 40 years, if convicted of any of the pending sexual assault charges, because of his 1986 and 1989 convictions on indecent assault charges in Massachusetts.
Madore's lawyers argue those convictions don't qualify him under New Hampshire's extended sentencing law, and contend that the assault charges carry a maximum of 10 to 30 years each.
Groff has yet to rule on what penalty Madore might face if convicted of any of the assaults.