Trial, hearing over ex-chief are cancelled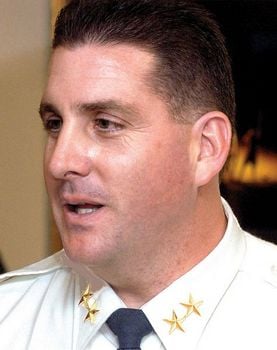 MANCHESTER – A trial to decide an ongoing legal battle between the town of Lyndeborough and its former police chief has been cancelled.
The case was scheduled for a preliminary hearing in Hillsborough County Superior Court North on Friday, but instead, a private meeting was held with a judge and attorneys for both sides.
Mark Broth is representing the town, while Andru Volinsky is the lawyer for the former police chief.
Former Police Chief James Basinas was removed from his post in December 2007 following a special town meeting where residents voted to rescind the police chief's position.
The former chief is challenging the legality of that vote.
Each side appealed for a summary judgment in its favor. On Friday, following the private meeting, Volinsky said the case will be reviewed by a judge, and another hearing will be scheduled if necessary.
In addition to the Jan. 27 trial, a hearing that had been set for Jan. 21 was also cancelled, Volinsky said. If Basinas wins the case, he could be reinstated.
At the special meeting the ballot vote was 130 to 73 in favor of eliminating the position, effective Jan. 1, 2008.
The vote appeared to end the long-running battle between the town and Basinas.
Basinas was hired in October 2003 and placed on leave for the first time in February 2007.
He was fired in April 2007
According to court documents, the Board of Selectmen dismissed the chief for a number of reasons, including failure to provide adequate station coverage, conducting internal investigations in a discriminatory manner, failure to abide by the town's purchasing policy, and failure to maintain department equipment in operable condition.
Town officials also cited concerns about how the chief acquired a radio that came from another police department.
Basinas sued the town to challenge his firing, and in November 2007, Judge James Barry ruled that Basinas could return to work and remain on the job until a hearing determined his fate.
After Basinas was reinstated, the town's police officers walked off the job, and police chiefs from surrounding towns withdrew mutual aid agreements they had had with Lyndeborough.
From mid-November until the end of December when voters abolished the chief's job, Basinas ran the police department single-handed, depending on state and county police departments for backup.
On Feb. 8, 2008, three days before a trial on the legality of his firing, the town and Basinas settled out of court. Under the settlement, Basinas received roughly $53,000, including back pay and legal fees.
Costs relating to the lawsuit were paid by the town's insurance carrier.
Later that month, Basinas filed a new lawsuit, claiming the vote to eliminate the chief's job violated state law.
That challenge was the basis of the hearing Friday.