Trash from an office could bite its patients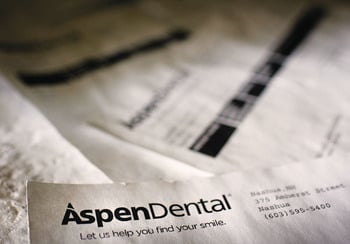 NASHUA – At least 60 patients of Aspen Dental won't be smiling after learning their confidential paperwork was lying on a busy public street for all to see.
Somehow, documents detailing everything from dental history to billing and personal information of customers were spread across Amherst Street on Tuesday morning. A broken trash bag was found near where the papers lay, and the scattered contents included a few pairs of latex gloves.
The company said the material was picked up Tuesday by a trash hauler, but it's not clear how it ended up on the edge of Route 101A.
"It doesn't make me feel too confident or too happy to think that stuff like that is floating around," said Hollis resident Tavis McKee, who had work performed last week at Aspen Dental's Amherst Street office.
McKee's address, phone number, email address, date of birth, and dental insurer were listed on a single sheet. The paper also included his account balance and a portion of McKee's Social Security number.
"I'm definitely going to have a talk with them," McKee said. "It's concerning that they're not shredding the information and just throwing it away in the trash. I know it's only the last four digits of my Social, but what if it was more?"
Hudson resident Fred Wilkie said he was disappointed that information Aspen Dental was supposed to keep confidential was suddenly up for grabs. One paper revealed the last four digits of his Social Security number, plus his address, date of birth, phone number and type of dental work.
"I usually don't throw away any confidential information," Wilkie said. "I try to shred it."
Aspen is a dental practice management group with scores of locations in 16 states, mostly in the Northeast. It has nine practices in New Hampshire.
According to Aspen Dental spokesperson Mark Frank, Aspen administrators have been in contact with Waste Management, the company contracted for the Nashua branch's waste removal.
Frank said that the waste was picked up Tuesday morning, but what happened after that is still under investigation.
The Health Insurance Portability and Accountability Act prohibits medical providers from releasing, without permission, a patient's name, address, date of birth and medical information. A health care provider is subject to criminal and civil penalties for breaching that privacy.
The act, known as HIPAA, also requires health care providers to "anticipate and protect" against any potential risk to the records.
Frank said that Aspen Dental adheres to the federal regulations about patient privacy, which do not specify shredding documents.
"We treat the protection of patient information very seriously," Frank said. "We dispose of patient records and information in accordance with HIPAA rules and regulations."
Frank said that, while Aspen Dental apologizes for the incident, the miscue was out of their hands.
"We certainly regret this unfortunate accident, which was out of the control of Aspen Dental," he said. "We've assured them that we're doing everything in our power to make sure that the situation is rectified as quickly as possible."
On Tuesday morning, The Telegraph collected paperwork with the information of 61 patients. The papers were gathered about an hour after a Bellwether Community Credit Union employee informed the newspaper of the spill.
The paperwork was on the street, the lawn of the credit union, and on the construction site of a Hampton Inn & Suites hotel next door. This section of Amherst Street, near the intersection of Somerset Parkway, draws nearly 46,000 vehicles a day, according to Nashua Regional Planning Commission.
Aspen Dental has an office about a half-mile away, in Somerset Plaza.
Some of the paperwork showed only a few details – such as street address and date of appointment – but the unauthorized release of those facts is still prohibited by HIPAA. Some papers were copies of the dental office's patient schedule; others listed only patients' procedures and the costs.
One patient was billed $7,934 for root canals and other work.
"This is a privacy issue," said a Merrimack resident, whose records were found and who asked not to be named. Her 11-year-old son was treated at Aspen Dental. "I don't want information about my son being out there where anyone can get it. These papers need to be shredded. It bothers me, too, because this information should be kept in his files."
Wilkie, of Hudson, already knows he's not going back to Aspen Dental. He said the staff there asked him to stop coming because he refused to have any more "costly" dental work.
"Evidently, they threw my records away," he said.