Transfer station upgrades to boost recycling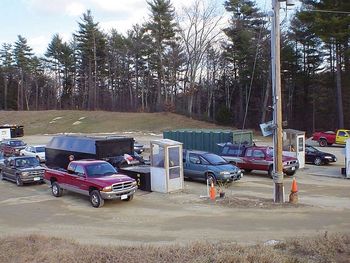 AMHERST – Going to the transfer station will become much less of a hassle in October when major renovations are expected to be completed.
Right now, the transfer station is spread out and the recycling station is up a hill, far away from the trash, so people have to wait in line, then park their cars twice to deal with trash and recyclables.
In October, the recycling station will be moved down into a new area that's close to the trash, so people only need to park once.
The consolidated service area will allow up to 20 cars to dump at once.
"We hope people will be right in and out," said Bruce Berry, the DPW director.
The new system will allow people to pull up to a series of tables, one for each type of recyclable material, such as glass and plastics.
Residents would dump their sorted material on the table and it would be checked by a staff person before the stuff lands in the bin.
The trash bin will be at the far end so people have to pass by the recycling bins first.
Residents will drop the trash into a bin below them. For insurance purposes, there will be a 42-inch tall partition between residents and the bins.
This way, more of an emphasis would be placed on recycling. When the current system was built 15 years ago, recycling was an afterthought.
Recycling is important because the materials are a revenue source for the town, and Berry expects the payback from Berry expects the payback from increased recycling to offset the cost of transfer station improvements in about five years.
The renovations cost $470,000 and were funded by a warrant article passed in March, and by the Souhegan Regional Landfill District.
Currently Amherst recycles 22 percent of its household waste, not counting yard debris.
"This (renovation) should easily increase the percentage of what's recycled because of the convenience factor," said Berry.
Residents will notice that the implementation of the new system will happen in two steps.
In the first step, the first three trash bins will be shut down and the trash will move to the new area. Residents will leave the transfer station via a new exit. This step is expected to occur in mid-September.
About three weeks later, Berry will do the second step, which will be to bring the recyclables down from the hill to the new area.
The changes were appealing to Joan Dunn, who came to the transfer station to recycle Aug. 14. "It sounds like it's going to be a lot more efficient," said Dunn.