Trail days play important role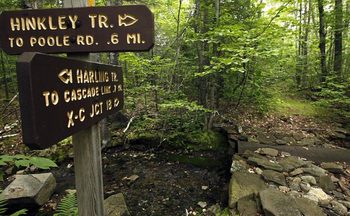 As the cash-strapped New Hampshire government struggles to pay for maintenance of its state parks, volunteer efforts like the weeklong trail work at Mount Monadnock are seen as part of the solution.
Amy Bassett, public information officer for the New Hampshire Division of Parks and Recreation, said volunteer efforts like Trails Week and the upcoming New Hampshire Trails Day are very important in the long-term maintenance of the parks.
"That will always be something were looking at," she said. "It's something that we need to cultivate more and certainly look to those resources.
Savage said, however, there must be more to the plan.
"It's not the solution," he said.
"I don't think you're going to generate the complete stewardship from during volunteers, but it can be part of the solution."
The state's financial problems are so severe that the Division of Parks and Recreation even put forward a draft 10-year management plan that said the state should consider unloading 27 parks because they were too expensive to maintain. That draft has since been withdrawn because of public objections.
Savage said that while the Forest Society understands the struggle to fund the parks' maintenance, but his group has limited resources.
"We're not in a position to take on stewardship of state parks," he said. "We have the same issues facing us . . . We're prepared to sit at the table, like we always do, and work with state agencies to develop appropriate solutions, but from a strait stewardship program, we have our own props to take care of."
For information about helping with projects like this, visit the Forest Society's Web site at www.spnhf.org.