Town is taking new tack on chief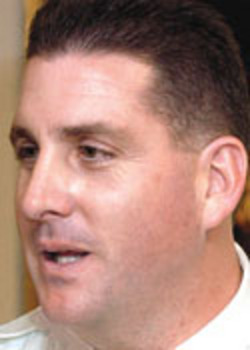 MANCHESTER – The town of Lyndeborough has advanced a new argument in its ongoing legal battle with its former police chief: He left voluntarily.
The argument came Thursday in Hillsborough County Superior Court, where Judge Phillip Magones is deciding whether former Police Chief James Basinas was removed from his post improperly by a December 2007 vote that eliminated the position.
Magones is expected to issue a written ruling in the coming weeks; both sides have asked for a summary judgment.
Basinas was removed from his post in December 2007 after residents rescinded the position of police chief in a special town meeting vote.
Basinas is challenging the legality of that vote.
Lyndeborough's attorney, Mark Broth, used Thursday's hearing to advance a new argument: Basinas left his post voluntarily following the vote.
"The chief left his employment because he chose to live up to the commitment he made to the community," said Broth, claiming Basinas' contract states that he would leave if the voters rescind the position. "He accepted the public's will."
If the town vote was truly illegal, Broth argued, then Basinas should not have left his job without immediate challenge.
This prompted Magones to ask what would have happened if Basinas continued to work as the police chief without the town's consent.
"(Would the town have said) you aren't the police chief, you're just someone squatting on the position?" Magones asked.
Basinas' attorney, Andru Volinsky, argued that the town vote was basically advisory because selectmen still retained the ability to bring back the chief position. As a result, he argued, selectmen fired Basinas without cause, contrary to state law.
This legal battle is distinct from a battle over whether selectmen acted legally when they fired Basinas in early 2007. Basinas was back on the job, awaiting a legal ruling about the selectmen's action, when town residents eliminated his position.