Town Hall renovation need critical, says engineer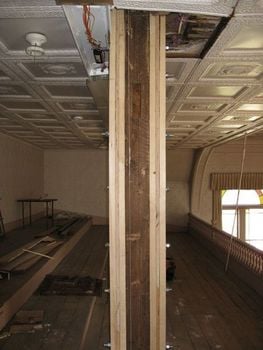 HOLLIS – There are rotting support beams under the main floor of Town Hall. The picturesque clock tower may be in jeopardy of toppling in a heavy wind. The roof is a patchwork of shingles and routinely leaks.
"I'm concerned if we don't address the structural repairs sooner rather than later we could experience some type of failure," Town Administrator Troy Brown said.
The Board of Selectmen is holding a public hearing Monday on a proposed bond to repair the Town Hall, either $2.5 million for a full renovation or $1 million for partial repairs.
>>If you Go<< The aim of the hearing, which is required by state law, is to gather input from taxpayers on the proposed bonding. A structural engineer who examined the Town Hall in July identified three critical areas: the carrying beams in the basement, which bear the entire weight of the building, are riddled with dry rot and cracks and need to be reinforced; the roof rafters need to be re-braced using updated technology; and the clock tower, part of the original early 19th century construction, needs to be secured. "The engineer's report says this in black and white," Brown said, adding that severe weather, including high wind, heavy rain and ice storms, have put the building at increased risk. Repair of the roof rafters would help prevent the potential collapse of the roof due to the weight of snow and ice, Brown said. During the public hearing, officials will ask for feedback on both the proposed repair plans and the financing options. The town would have the option of borrowing over 15, 20 or 30 years to fix the Town Hall. A 30-year note would cost each taxpayer 21 cents per $1,000 of assessed property valuation during the first year and 7 cents per $1,000 in the last year, Brown said. Shorter-term bonds would costs taxpayers more annually. Brown said the structural weaknesses - and potential dangers to those inside the building - aren't apparent from the outside. The engineer's report, however, makes a compelling case for the repairs, he said. "Nobody can tell you when," Brown said. "It's an old building, the beams are under stress." Assistant town administrator Cathy Hoffman said she and the other eight full-time Town Hall employees have put worst-case scenarios out of their minds, in spite of the engineer's report. "As time goes on, and the clock tower is still standing and none of us has fallen into the basement, we accept it and go on," Hoffman said. That wasn't how she was feeling last summer after the structural engineer walked into her office on a Saturday morning. "He came in all excited, asking me, 'Can I get to the planning office? The back where the safe is,' " Hoffman said. "He said, 'This isn't safe.' It was a panic situation." >>Town Meeting '09<< Hoffman said in addition to the Town Hall employees, a number of townspeople use the building on a regular basis. The town band, for example, rehearses in the upper part of Town Hall, once used for basketball games and theater productions. And the space is also used by other local groups. "We've been talking about renovations since last year," Hoffman continued. "We said, 'This year, the Town Hall gets its renovations. The DPW, the police department, the fire department had theirs.' "This was the year to do the Town Hall."