Town Clerk Trippett easily beats McCray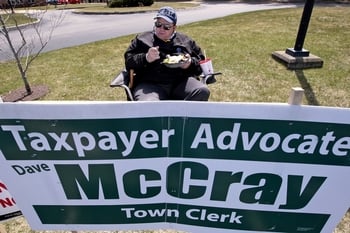 MERRIMACK – If Tuesday's election was considered a job evaluation, then Diane Trippett has some pretty solid job security.
Trippett trounced Dave McCray in a race for the town clerk/tax collector post, one she's held for 14 years, by a vote of 2,326 to 667.
"The outpouring from the community was tremendous," Trippett said after the results were announced at the Mastricola all-purpose room Tuesday night. "I had people calling, e-mailing, leaving messages. I was overwhelmed by it."
McCray, an at-times controversial former town councilor, had said he was running to improve efficiencies in the office without raising costs.
"I think the people have spoken overwhelmingly that today, they are very happy with the job Diane Trippett has done," said McCray during a phone interview Tuesday. "They definitely wanted her back – and they gave their opinion of me," he added with a laugh.
Trippett, who has run unopposed in the past three elections, said this time around, she handed out fliers, responded to questionnaires through a local election Web site and to The Telegraph, started her own Web site, kicked off e-mail chains, waived signs and wore buttons.
"It is my job, and I was very concerned for the community," Trippett said of the rigor behind her campaign. "If it had gone the other way, I think it could have had an impact."
McCray said he wished Trippett "nothing but the best." He also plans to run for public office some time in the future, but not for town clerk.
"You know, politics ebbs and flows," McCray said. "I don't think we're in a conservative frame of mind."
Indeed, one of the most vocally conservative voices of the Town Council was ousted Tuesday. Mike Malzone, who served one term, came in fourth out of seven vying for three open seats. An attempt to reach Malzone on Tuesday night was unsuccessful.
The top vote-getters were Tom Koenig (1,821), incumbent Chairman Tom Mahon (1,513) and David Yakuboff (1,400), who was appointed to the council last year to fill out Betty Spence's term.
"I'm excited about the opportunity," said Koenig, who was on two years ago. "I want to keep Merrimack moving forward, and this is a great opportunity to do that."
Rounding out the council candidates were Dan Dwyer (1,117), Michael Turcotte (505) and Thomas Lynam (329).
Re-elected to the School Board were incumbents Jody Vaillancourt (2,069) and Jennifer Thornton (1,789). Shannon Barnes garnered 1,218 votes.
Additional results (with winners in bold) showed:
Ethics committee: Michelle A. Gosselin (1,910), Robert N. Kelley (1,980).
Library trustee: Robert N. Kelley (1,548), John D. MacLeod (870), Barbara Tucker (1,739).
Trustee of trust funds: John E. Lyons (1,808), David Rutzke (485).
Treasurer: Linda B. Wilson (2,315).
School budget committee: William J. Cummings (1,757), Michael McGarry (1,186), Andy Schneider (1,420), Chip Underhill (1,482), Michael Beck (1,296).
School planning and budget committee: Richard J. Hendricks (1,874), Davis Powell (1,933).