Tough times have some making presents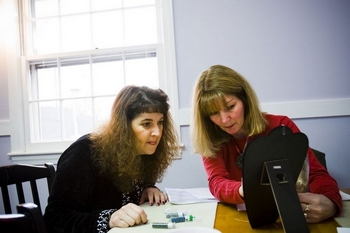 This year, in Sharon Kehoe's house, there's a new rule about holiday gifts. "If I can't eat it, smell it, or wear it, I don't want it," said Kehoe, who lives in Nashua. "Going back to basics seems to be when we're the happiest."
Kehoe's decree is in direct response to the spiraling economy. Instead of elbowing her way through store crowds, she's staying put in her own kitchen to make candy, pork pie and spend time with loved ones.
"I'm sticking to what my family wants and needs," Kehoe said. "I'm not going to be waiting so long in lines, spending too much and worrying about how to pay for it. This, to me, is so much more relaxing, and it's fun. The fun is back in Christmas."
Kehoe may be one of many people choosing to scale back this season, trading in the consumer crush for a homemade holiday.
Locally, Tori Bradford, owner of Castleander Beads in Hudson, reported robust participation at her free workshops on Thanksgiving weekend.
"People are making jewelry rather than going out and buying gift cards, or buying Suzie a toy," Bradford said. "You can make something from the heart and it's less expensive than buying something equivalent in a store."
Consumer spending is down, according to news and economic reports, but Professor Sheila McNamee, an interpersonal communication expert at the University of New Hampshire, said easing gift-giving can mean a more meaningful holiday.
"Most people know what's happening with the economy," she said in a statement.
"This is a good opportunity for us all to take stock: The success or happiness of the holiday season does not need to be measured by the amount of money you spend but should be measured by the quality of time and personal commitment we offer to each other and those we care about."
And while making a gift for someone lead to feelings of profound joy, people's lousy financial situations can also sometimes spur foul holiday moods.
Dr. John Randolph, public education coordinator for the New Hampshire Psychological Association, said that the country's economic woes often ratchet up stress levels.
"It is normal to feel overwhelmed during the holiday season," Randolph said. "The pressure to have the perfect holiday can be extraordinary. It is important to put things in perspective and realize that the materialism of the holidays isn't the real spirit of the season. The holidays are about family and togetherness, not tinsel and presents."
Kehoe has recently subscribed to that idea.
She said her former holiday shopping strategy was 365-day affair. She'd buy all year long, storing gifts in cupboards, cabinets and her basement.
"I'd decide who this (item) would be good for," she said. "A lot times, it wasn't what they wanted, and it was four times what I wanted to spend . . . I was caught up in all the tradition we had to have. I was running myself ragged trying to accomplish this."
In addition, Kehoe and her family – like many Americans – are absorbing higher bills for utilities, gas, oil, food and medical expenses.
At last, her daughter gave her some advice.
"She said, 'Ma, simplify your life,' " Kehoe said. "This year, I'm really feeling that this is what we need to do."
Her family is returning to old rituals, like having sing-alongs, going to local musicals, attending midnight mass, and making an old candy recipe from Canada.
For gifts, her family is calling on its crafty side by giving framed pictures or calendars with family photographs.
Betty Lindberg, also of Nashua, is operating along similar lines.
This year, she said the economy forced her to "turn a corner," so she abandoned the shopping scramble and decided to make gifts out of her passion: photography. She snaps shots of places meaningful to her friends and family, mounts the pictures on note cards and sends them off.
"I'm just tired of buying things randomly, when I'm not sure if it's what they want or if it's going to fit," Lindberg said. "These I know they'll appreciate."
Linda Bonetti, of Merrimack, also executive director of the town's chamber of commerce, said money in her family got tight this summer. This year, she made a special Christmas request of her children and grandchildren.
"I said, 'You know, everybody, this is what I want you to do: Volunteer some time,' " Bonetti said. "At Christmas, they'll report back and we'll talk about what they did to volunteer. I can't wait."
McNamee encouraged people to talk to their family and friends about how different ways to approach gift-giving during the challenging economic times. She urged people to focus on giving thoughtful gifts, which don't have to break the bank.
"When people have less, they seem to value their relationships more," McNamee said. "When we feel threatened, we take stock of what we do have and we have control over. This can be a wonderful moment to be thankful for our health, our relationships and all that we take for granted in our daily lives."