Tony's Lanes closed – again – bowling over residents Bowl mor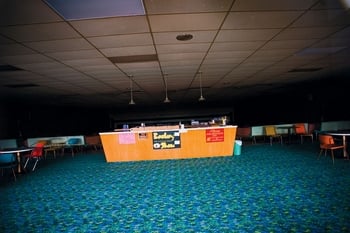 MILFORD – Dan Catherine and his friends spent Thursday bowling what could be the last strings at Tony's Lanes in Milford.
The Elm Street landmark closed Thursday for the second time in recent memory because of legal issues, according to the owners' lawyer.
"It's very sad," Catherine said. "It's one of the only forms of entertainment we have left in Milford."
Catherine, a Milford resident, has been bowling at Tony's Lanes for about 15 years. He managed the mixed couples league that occupied four of the 12 lanes Thursday night. He, like a few of the bowlers there Thursday, said he'd likely stop bowling now rather than travel to Nashua.
The candlepin lanes opened in 1961 as Bowlmor and used to be a popular hangout spot for Milford High School students. It closed in 2006 after the owners died. In 2007, Nashua businessman, Anthony Matarazzo Sr., opened the bowling alley as Tony's Lanes.
The alley has been open intermittently since Matarazzo died in September. The managers are Stanley and Kathy Pawelczyk.
Kurt Frost, a Nashua resident, used to hang out at the lanes after school in the late 1980s while his father worked nearby. He hadn't been to the alley in years but came Thursday "to say good-bye."
"It's a great place," Frost said. "It stinks it's closing. I used to come here a lot."
Alan Brown has been bowling at the lanes since a year after it opened.
"We used to fill up almost every lane," he said. "I don't want it to close. It's the only recreation I get. These people are family."
Myra Roebuck has been bowling at Tony's Lanes since the early 1970s.
She said she'd give up on the sport rather than drive into Nashua. She echoed several bowlers Thursday and said she liked the Milford alley because it was a family atmosphere and more affordable than many other places.
"It's fun to come with the people here and just have a night out," she said.
"I guess we just take it one day at a time and hope they come back."
The Pawlczyk's lawyer, Janine Gawryl, confirmed this week the lanes would be closing. "Legal issues have arisen regarding the ownership, management, and direction of the bowling alley," she wrote in an e-mail.
"Until those issues are resolved, the bowling alley will close."
Matarazzo's son, Anthony P. Matarazzo, and the Pawelczyks declined to comment.