Tolles Street continues to pick up pieces after its founder's death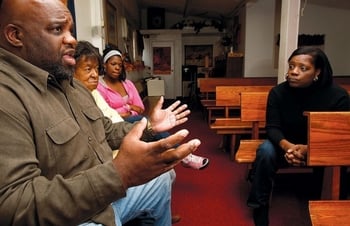 NASHUA – The death of the Rev. Peggy Smith last year left holes in many hearts, but it also raised the pressing question of who would take her place in feeding and clothing the destitute of one of the city's poorest neighborhoods.
Smith probably knew all along that her family and close friends would fill her void in French Hill. But they'll admit, it took considerable time to look beyond her loss and refocus on her mission of aiding the needy and helpless.
"I think solely 'cause my mom's not here, things were slowing down," said her son, the Rev. David Smith. "But we're just kind of bouncing back."
David Smith and the many volunteers behind Tolles Street Mission know that increasingly desperate economic times call for them to not only duplicate the longtime community advocate's renowned spirit and energy, but to eventually surpass her work of almost 20 years.
Part of that challenge is simply informing the city that the mission still exists – that it still welcomes the poor, alcoholics, drug addicts, and spiritually broken.
Many people donated items and time to Peggy Smith, but may not now realize the mission has continued without her, her son said.
On quick examination of the modest Whitney Street building that houses both a ministry and nonprofit charitable organization, it would seem as if no one missed a step after Smith died of cancer in December.
About 100 brown shopping bags sit on counters or the floor of the kitchen. Each bag contains essentials for a Thanksgiving dinner: bread, stuffing, potatoes, rice, carrots, juices, pasta and macaroni and cheese.
All week, those who have placed an order, and even those who cold-call at the door, will receive a bag, David Smith said Wednesday. The charity has already distributed 75 of them.
A struggling economy, combined with oncoming winter and holiday seasons that can depress many, make the mission more crucial, he said.
"There are not many jobs out there," Smith said. "A dollar doesn't go as far anymore. Most people in the area don't have a college education … and when unemployment is up, so is alcohol and drug use."
Smith both recollected his mother's work and the mission's future in the sanctuary, where a large sketch portrait of her sits.
His sister Michelle Smith and niece Kimberly Dabney sat near him, as did Peggy Smith's assistant from the mission's infancy, Mary Springstead. Dabney's 2-year-old son, Elijah, played around them, and one of the mission's staff, Janice Jefferson, briefly joined everyone in recalling Peggy Smith's vocation and their struggle in overcoming her passing.
The shelter closed for nearly two months after her death.
"This year, it was kind of us waiting to exhale," David Smith said. "We had to bury her. We had to mourn her. Now, it's time to move on, and get her vision right."
To re-engage, Smith will slowly transition out of his ministry work in Bridgeport, Conn., to become Tolles Street Mission's full-time pastor. Springstead is also a pastor, and everyone there remains committed to fulfilling Peggy Smith's legacy, he said.
Engaging the youth was one of her priorities, so every Friday, the mission continues to take kids and teens off the streets for movies and food, David Smith said.
Peggy Smith was known throughout the community for not being afraid to help alcoholics and drug dealers, and sometimes risking her safety on French Hill's more dangerous streets.
Tolles Street Mission carries on her work there with a men's group that meets every Monday. It offers secular and spiritual help, particularly for alcoholics and drug users who find it hard to come to weekly Sunday services, David Smith said.
Smith and the others thanked the many people who have continued providing assistance in keeping the mission afloat, particularly homebuilder Peter Paradise and Grace Fellowship Church Pastor Paul Berube.
But donations will be needed long after Thanksgiving, they said. For one, the mission plans to hold its annual Christmas party for kids. It needs small, unwrapped toys, and table clothes and utensils.
And the mission will always accept food, toiletries and monetary donations to meet its daily obligations.
If Peggy Smith's effort removed the rocks and logs that created the pathway for helping the community, then her surviving friends and family want to now pave that road, her son said. Maybe five years from now, the mission could grow beyond its small center, and even build a youth center, he said.
But right now, it's about still mourning the founder while not straying from her dream.
"Her vision," David Smith said, "was to enable the community of French Hill."