Toll relief bill falls flat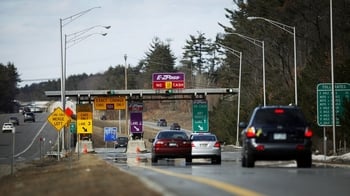 The last effort in the 2009 session to give toll relief to Merrimack died Tuesday.
A bill (HB 604) from state Rep. Jim O'Neil, D-Merrimack, sought to get rid of a tollbooth among the three exits through Merrimack on the F.E. Everett Turnpike.
O'Neil said it was his preference to get rid of the toll at Exit 11 (Merrimack Industrial Interchange).
State Rep. Dale Sprague, D-Somersworth, said the bill "unfairly relieved" one community.
"The turnpike system is set up as a pay-as-you-go system, and if the community finds the fee doesn't make travel easier in their day-to-day living, they can choose not to use the system," Sprague said.
The House killed the bill on a voice vote without debate.
Last month, Gov. John Lynch proposed raising tolls throughout the turnpike system but would leave the exit ramp tolls in Merrimack unchanged.