Three vehicles in Milford accident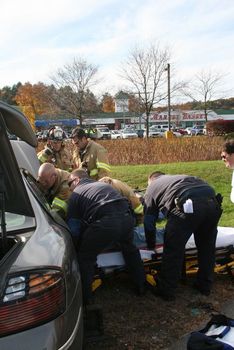 A busy intersection near the Market Basket supermarket was the scene of a three-car accident around 3:30 p.m. Friday.
Witnesses said a Bonneville sedan coming from the Troop B state police barracks pulled into the intersection of Jones, Meadowbrook and Savage roads without stopping and was hit by a 2007 Chevrolet Equinox sports utility vehicle that was traveling west on Savage Road.
The driver of the SUV said he was "glad my wife talked me into getting extra airbags" as he watched his car being towed and stood waiting for a ride home with his son.
A third car, a Cadillac Deville, was grazed in the accident.
At least one person was taken to the hospital for treatment.
Further details were unavailable Saturday.