Thousands of job seekers overwhelm Queen City event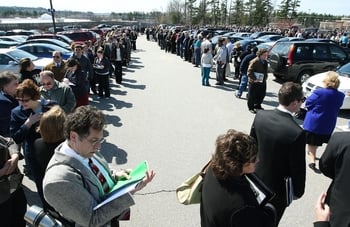 Bob Banuskevich knew he had to dress the part. The 61-year-old Nashua native, who was laid off in January after 20 years in manufacturing, bought a sport coat, slacks and spiffy shoes.
He touched up his resume, and Thursday morning he went to a local office supply store and made plenty of copies.
Finally, he headed to Manchester, dusting off his interviewing skills to speak with employers at a statewide job fair being held at Southern New Hampshire University.
HELP 101
But when Banuskevich reached the Mall of New Hampshire at about 10 a.m., where shuttles were running job seekers across town to the college, he was wowed by a crowd of police, security officers and gobs of people with resumes and portfolios tucked under their arms.
"People were walking away saying, 'They're not running the bus service anymore,' " Banuskevich said from his house Thursday evening. "I just waited by my car, watching the back and forth."Banuskevich never made it to the WMUR-sponsored "Project Economy Job and Career Expo," which drew more than 10,000 people in the first two hours. Organizers had expected 5,000, and ended up shutting off transportation from the mall and turning away people who arrived at the college.
Organizers issued an apology to job seekers like Banuskevich who were turned away.
"These are challenging economic times and there was an unprecedented turnout of job seekers," a statement from the organizing committee said. "Thankfully, thousands of job candidates from throughout the state and beyond were able to meet with employers and we know that many valuable career connections were made as a result of this event."
Traffic clogged the east and west sides of Route 293 near the mall, and lines of job seekers snaked across the campus.
"It was a crazy madhouse in there," said 28-year-old Amy Girard, of Weare, referring to the gymnasium where 140 employers had gathered to offer 1,000 positions.
Back at the mall, job seekers waited for up to two hours to board buses. Organizers had booked 12, each holding about 50 people. When it became apparent that shipping 600 people per hour was not going to cut it, organizers called in five more buses – including two to operate in the downtown Manchester area.
"We called every (local) school bus driver to see if they can take a shift," said Evan Rosset, assistant executive director of the Manchester Transit Authority.
Lines at the mall twisted round and round the parking lot, with people of all ages wearing everything from three-piece suits to jeans and Red Sox caps.
Adam Bourassa, 32, of Portsmouth, waited almost five hours before he finally reached the job fair gym.
"I picked the wrong time to get out of the active military," joked Bourassa, who spent seven years in the Navy after finishing school. "I've never been on this side of things. It's a brand new experience for me."
Aboard a bus to the college, 22-year-old Providence College senior Ben Lannin, of Milford, weighed his options.
"I feel like this is the worst year to graduate for a college student," Lannin said. "I've got to keep my head up, keep trying."
An economics major, Lannin hoped his age might be at an advantage in terms of entry-level finance positions at the fair. He also had a secret weapon: a broken finger (volleyball injury) that proved a great conversation starter at another recent job fair.
"Even if I can only make three or four contacts, that's three or four more than I had when I started," Lannin said.
Mike Stains, 45, of Brookline, was similarly optimistic. A facilities manager in the Milford area, he was laid off last spring, and he's been hunting ever since.
"Sometimes you get a good vibe and then you go home and the phone doesn't ring, and it doesn't ring, and it doesn't ring," said Stains, who dropped 13 resumes at the job fair. "But you never know if you don't try."
Cindy McCrady and Kim Gush, both of Hudson, said they found many employers at the fair directing them to Web sites, rather than entertaining interviews.
"It was too chaotic," McCrady said. "People were shoulder to shoulder."
"At Fidelity, there was only one representative, and the people were squished like sardines talking to the one gentleman," added Gush, who was laid off from her finance job earlier this year. She said she benefited more from general networking.
Several local employers said they fielded some serious prospects at their booths.
"We're seeing a lot of extremely qualified applications," said John Hocking, sales manager at MacMulkin of Nashua, who added that he'd taken in 250 resumes. "The event as a whole has exceeded expectations."
BAE was nearly impenetrable at noontime, with many applicants chatting up three representatives who had two large stacks of resumes on their table. PC Connection, which had five open positions, reported getting hit with all kinds of applicants – including those looking for a career change, and others looking for anything.
"Even if you don't get something immediately, they could find a future opening," said Kristine Harris, a human resources representative from the Merrimack-based company.
"It's been overwhelming, but great," said Tiffanie Gillen of Kiddie Konnection Childcare Center in Hudson, which had two open posts.
"We have a lot of resumes with a lot of potential."
And even though Banuskevich, of Nashua, left without ever getting to show anyone his resume, he didn't end up empty-handed.
An employment agency called him 45 minutes after he arrived back home from the crowded mall parking lot. He has an interview today.