Thirty years coming, new Hudson library has busy opening day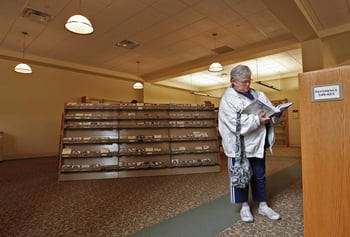 HUDSON – A book reader needs light, of course.
A book borrower also needs light. And of all the positive appraisals made Monday at the opening of George H. and Ella M. Rodgers Memorial Library, an abundance of natural light topped the list.
After 30 years of wishful thinking, residents finally have a new library: one with high ceilings, new computers, rooms with enough space to play Whiffle Ball, and enough penetrating sunlight to illuminate the pages of "Long Walk to Freedom."
The book, the autobiography of Nelson Mandela, was one of dozens that library staff stocked on the shelves on a busy opening day. The library purposely made May 18 the due date of books borrowed in the past month to attract patrons to the new building.
And those patrons obliged. From the moment the doors opened until late in the afternoon, the library saw a swirl of residents quickly returning selections so they could slowly examine the new digs.
"It's bright and spacious," Martha Rebello said. "It looks easier to find things."
Rebello and her husband, Dennis, frequently visited Hills Memorial Library on 18 Library St. As with many patrons interviewed Monday, the Rebellos found the old library limiting.
The library's collection of books, periodicals, reference materials and videos weren't displayed properly because the building just didn't have room, patrons said. And the Rebellos often were frustrated by the lack of parking spots at Hills Memorial, which is not a problem at Rogers Memorial.
"There was no rhyme or reason," Director Toni Weller said of the old building while taking a break from shelving a cart full of returned books.
Weller excitedly gave a guest a tour of the new building: the expansive main section – which holds the adult and teen holdings and the video and reference areas – the roomy children's section that includes a separate function room, and the community room that will seat up to 60 people for movies and events.
The library came after nearly 30 years of discussion and several failed votes.
The last attempt came in 2007, when a majority of voters supported a $4 million proposal, but the measure fell short of a 60 percent majority. That fall, Hudson residents Philip and Alvin Rodgers donated the $4 million for a building to be named in honor of their parents. Construction started last year.
"It's beautiful," David Kelley said. "It's well laid from what I've seen so far." He wants to bring his grandson Connor there soon to enjoy the children's library.
And that new children's space was abuzz Monday with the sound of mothers and children reviewing book titles while some kids played interactive video games on new computers.
Michelle Kolachi can't wait to bring her two children to "toddler time."
At Hills Memorial, the space reserved for such programs was so small that there was a waiting list. When their scheduled time arrived, parents and kids had to sit on top of one another, she said.