Think Brady's hurting? Injury stings fans, too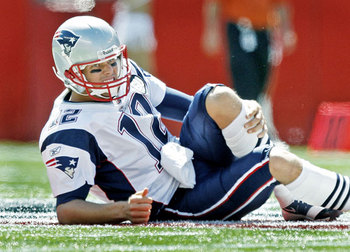 No one resorted to actually wearing a black armband, but New England Patriots fans still carried grief on their sleeves.
Worry and despair crept around Patriots Nation on Monday morning, even before the news came down that quarterback extraordinaire Tom Brady would miss the season with a knee injury, making the bright-blue sky seem as black as night.
"It's a real blow. There's no getting around it," said Jody Gage, who watched Sunday's Patriots game in end-zone seats at Gillette Stadium.
Gage, owner of Fortin-Gage florist in Nashua, wasn't preparing bereavement bouquets for the Patriots just yet. But, as with many other fans, Gage has no choice but to now pull for Matt Cassel, the backup quarterback who will have to fill Brady's shoes.
"Now, it's Cassel's team," Gage said.
The hope of Patriots fans the day after The Hit – a Kansas City Chiefs safety's collision with Brady's left knee – is that Cassel performs well enough to guide the team to the playoffs. It's a far cry from the expectation that the Patriots would once again make, or even win, the Super Bowl.
"I feel good about Matt Cassel," Pete Gagnon said as he prepared sandwiches at Nashua Garden.
But Gagnon paused. The reality of a season without Brady, the savvy QB who has led the Patriots to three championships in seven years, started to set in Gagnon's mind. He tried to visualize a return visit to the Super Bowl with Cassel at the helm.
"I want to believe in him," he said, almost convincingly.
These fans offered their season prognosis before doctors would officially offer theirs on Brady's knee. But after watching replays of the tackle and listening to sports commentators, many expected Brady to miss most, if not all, of the season. Those who guessed all of the season were correct.
Don Krimpler, who said he injured his knee playing fullback and cornerback for Plymouth State College "years ago," said Cassel will benefit from a winning system constructed by coach Bill Belichick.
"They play well together as a team," Krimpler said.
Indeed, Brady's injury will finally allow fans to see if it's the quarterback or the coach who makes the Patriots winners.
Although Cassel performed well in a pinch Sunday, helping the Patriots beat the Chiefs, many fans think the new starter needs a few games under his belt to prove if he can be like Brady.
"Was Sunday's game a fluke, or does he have a hidden talent?" said Tim Lamper, a traffic technician for Hudson Public Works Department.
Even though Cassel clearly performed poorly in the preseason and was on the verge of being cut, some fans think it was a Belichikian ploy to surprise opponents. Somehow, Belichick finds a way to win, they said.
"Don't panic just yet," Lamper said.
But Pete Tarrier, a sports commentator for WGAM radio in Nashua, hit the panic button as soon as Brady screamed in pain on Gillette turf.
It wasn't enough that the Patriots lost the Super Bowl at the last minute to the New York Giants, spoiling a perfect season, Tarrier said. Now, the football gods have struck again in the first quarter of the first game since that painful defeat, he said.
"After the Super Bowl last season and now this, everybody is going, 'What the heck just happened here?'" Tarrier said.
Brady's misfortune is also Tarrier's fantasy football misfortune. Tarrier has Brady as his starting quarterback in the popular pursuit that is based on NFL players' statistics.
"My fantasy team is totally screwed now," he said.
But for every 100 Patriots fans, there is someone who doesn't follow football and could care less about the most damaging injury to a Boston pro athlete since Celtic Larry Bird went down with a bad back.
"It's not going to affect my life at all," Karl Gott said while preparing for a lunchtime crowd at Espresso Pizza in Nashua. "He's got a couple of championships, a lot of money, a good girlfriend (supermodel Giselle Bundchen). He could retire tomorrow."