Thin job market causes local college students to rethink their plans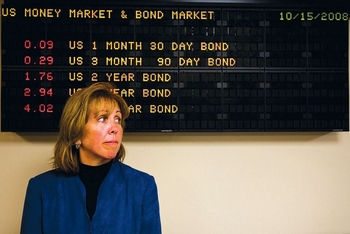 Editor's Note: This is the first in an occasional series of stories on how the economy affects local people.
NASHUA – In a perfect world, Clint Whelan would have no trouble landing a job after graduating in December with his business degree from Rivier College.
But as the 26-year-old is quickly realizing, things aren't exactly perfect right now. And that has meant having to rethink his options.
"A couple of the companies I contacted are in an employment freeze," said Whelan, who will finish his bachelor's degree in business management at the end of the semester. "It's really scary."
Instead of diving head first into a thin job market, Whelan said he's likely to opt instead to continue his college education by pursuing his master's degree at Rivier.
Whelan said he didn't plan to pursue his MBA until later in his career, but said his plan has changed.
Whelan said he knows he's just adding to his debt load, but said he doesn't feel like he has any other options and hopes the job market stabilizes over the next year.
"Desperate times call for desperate measures," he said.
As the country tries to rebound from its worst economic crisis since the Great Depression, college students in Nashua say they have a genuine fear about what the state of the country's economy and job market will be after they graduate.
Kim Goggin, a junior at Rivier, is supposed to get married in June and is having concerns about what the state of the economy will be when she graduates, especially when her student loan payments kick in.
Kim Hare, director of career development at Daniel Webster College, said there is a level of concern among students about what they're going to do for work after graduating.
"It's hard to avoid, when you flip on the news, the devastating language that's being mentioned," she said.
Hare's department at the college works with students on interviewing skills, resume building and how to search for a job.
Krystyna Ciszek, a senior majoring in marketing at Rivier, said she's concerned about making ends meet after graduating. She said she has concerns about finding a job, being able to afford a home or a car and just making sure she can pay the bills.
The notion of living the American dream "seems like it's less likely to happen," she said.
Ciszek is a student in Karen Spohn's macroeconomics class at Rivier, where they've been going over the causes of the economic collapse and whether the $700 billion bailout was the right move.
For many students in the class, the lesson is hitting close to home.
Senior Anthony DeCarolis is a graphic design major who said he, like Whelan, has taken a look into the job market in his field and is scared by what he has seen.
Because of the poor economy, fewer companies are opting to hire private graphic design firms to do work for them, and that means fewer job opportunities for new graduates, he said.
"I'm extremely worried about what I'm going to do after college," said DeCarolis, 21.
Sara Cote, 22, said that after earning her associate's degree from Nashua Community College, she had planned to pursue a bachelor's degree in business at Rivier College.
But with the country in economic turmoil, she changed her career path and is now pursuing a degree in education. Cote said she believes finding employment as a teacher will be easier than finding a job in the business field.
There was also concern among students about access to student loans.
Cote said she had trouble securing student loans coming into this school year. After finally finding a loan for this year, her interest rate had gone up from 4.5 percent to 10 percent.
Tara Payne, spokeswoman for the New Hampshire Higher Education Assistance Foundation, said her organization has been surveying the state's college students about their concerns when it comes to securing student loans.
In March, the New Hampshire Higher Education Loan Corp. – part of the Higher Education Assistance Foundation network and the largest state provider of student loan financing – suspended its alternative loan program.
That affected nearly 6,000 students, who had to find another way of paying their college tuition if their federal loans didn't cover the full cost, Payne said.
"From what we've seen so far, many students were able to find some ways to manage the college costs," she said.
A quarter of those students put their tuition on credit cards, Payne said. The survey also revealed that a quarter of the students weren't sure how they were going to pay their tuition for the second semester, she said.
Spohn said students in her class have also been tasked with a project to analyze the merits of both presidential candidates' economic plans. At the beginning of the semester, she asked students which candidate they were supporting in the election.
"They were pretty split," she said.
When they're finished with their research, Spohn said she plans to ask them again to see if their research changed their opinions of the candidates.
Hare said one possible side effect of the economic crisis might be that students will start considering about how to prepare to look for a job earlier in their college career.
"Hopefully, this will build an awareness," she said.
One of the most important things students can do to prepare themselves for the job market is to do an internship in their field before graduating. That helps prepare students for the workplace environment and often can help build a network, she said.
"Oftentimes, a lot of students end up getting full-time job offers as a result," she said.
Megan Hales, employer relations and recruiting coordinator for the University of New Hampshire, said there is a reduction in the number of jobs available for students across the board. On average, companies with which the university partners are hiring 50 percent fewer employees, she said.
"There are positions out there, just not as many," she said.
Like Whelan at Rivier, many students at UNH have opted to pursue advanced degrees instead of look for a job, Hales said. There is also increased interest in networking programs among students, she said.
"This has definitely boosted the 'What am I going to do after?' question for them," she said.