The survey taker says …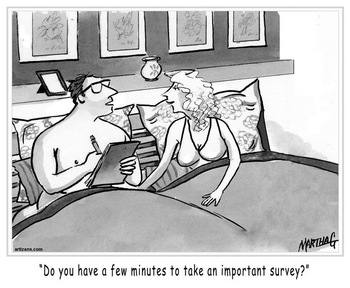 Wonder why your fast-food burger with three onions sits on a four-inch bun? Research. Or why your car's cupholder is just big enough to hold a Starbucks venti-sized coffee? Research. Chevrolet doesn't drive America. Research does.
Nothing gets done in the corporate world without running the numbers. CEOs who direct big business won't even take a bathroom break unless research indicates the public wants them to. My radio livelihood rests on ratings research. Since I appreciate people who take surveys and keep me employed, I fill out as many surveys as I can, knowing someone's job may depend on my participation.
During a recent visit to Applebee's, I was politely asked if I'd share my experience with them. Sure! I'm in. Applebee's promised me $3 off my next visit for calling a toll-free number and participating in a five-minute phone survey.
"We look forward to creating more great, memorable experiences with you, your family and friends," reads a pamphlet that invited me to participate. I like the restaurant and was happy to oblige. Then I thought about the compensation. At $3 for five minutes of work, I could earn $36/hour doing this as a full-time professional. As much as I love radio, I think getting paid to eat is even better that getting paid to talk.
I wonder if getting joy from filling out surveys is inherited. Daughter Liz filled out every restaurant comment card as a child just as soon as she could grasp a kiddy crayon at Ground Round. Even into her teens, Liz made sure restaurants knew what their younger customers were thinking.
Since Applebee's, I've been recruited by Wal-Mart and Walgreens to help them shape the futures of their companies. I suggested to Wal-Mart that their front-of-the-store greeters ditch the blue smocks in favor of bikinis while passing out margaritas as people arrive. Last I checked, my idea has not yet been implemented. If BMW calls, I will recommend that prices on their upscale 7-series fleet begin at 19 grand.
The best survey opportunities arrive via e-mail from Harris Poll Online. Each month I fill out questionnaires about everything from health care to plasma TVs. Every time I participate, Harris credits my account with points. Just like a carnival, I get to pick the equivalent of a stuffed animal.
A recent Harris survey on washers and dryers wanted my opinions about "several potential products that might be available in the future." However, before I could answer their questions, I had to agree that, "You shall use your best efforts to preserve the confidentiality of such information and data and to prevent its disclosure to any person without a need to know." I clicked the "I agree" button and became privy to tomorrow's high-tech laundry room. Oooooooh!
Hey Maytag, I just want a washer that'll get melted Kit Kat stains out of my Dockers. I don't need an alarm that buzzes if the cat accidentally takes a nap in my dryer. Oops! Sorry, Harris.
You can hear Mike Morin weekdays from 5 to 10 a.m. on "New Hampshire in the Morning" on 95.7 WZID-FM. Contact him at Heymikey@aol.com.