Test scores continue upward swing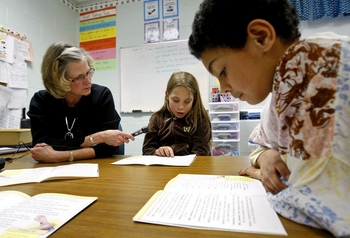 New Hampshire students continued to show improvement in reading, writing and math, according to test results released Wednesday by the state Department of Education.
The New England Common Assessment Program tests students annually in reading, math and writing. Reading and math scores are the only results for which districts are held accountable for their progress.
This year, 75 percent of students were proficient or better in reading, compared to 72 percent last year; 64 percent in math, compared to 61 percent last year; and 50 percent in writing, compared to 43 percent last year.
However, math and writing scores at the high school level, although improved from last year, continued to be a problem.
Only 32 percent of high schools students in the state were proficient or better in math this year. And in writing, only 39 percent were at that level. In reading, scores were much higher, with 72 percent of students scored proficient.
The questions on the tests are based on the state's grade-level expectations.
In Nashua, scores were slightly below the state averages, with 71 percent of students proficient in reading, 61 percent proficient in math and 47 percent proficient in writing.
Brian Cochrane, director of assessment and accountability, said the reading scores in grades 3 through 8 continued to rise for third straight year, a result of the district's focus on literacy curriculum.
In 2005, 65 percent of students in grades 3 through 8 were proficient in reading. That figure has gradually increased; this year, 72 percent of those students were proficient in reading.
"We're pleased to see across-the-board the reading results improving," he said, adding that the district still has work to do.
Nashua has been designated as a district "in need of improvement" by the state for insufficient reading scores, and is working with state officials to improve scores.
No Child Left Behind, a federal law enacted in 2002, requires that students in grades 3 through 8 and 11th grade be tested in reading and math. Students in grades 5, 8 and 11 are also tested in writing.
Schools and districts that don't make adequate yearly progress are designated as schools "in need of improvement." Low-income schools that repeatedly fail to meet benchmarks face a series of sanctions.
The future of the controversial law, which is due for reauthorization, is in uncertain.
Critics argue that it forces educators to teach to the test. However, advocates argue that the law has forced schools to pay attention to the progress of certain subsections of students, such as special education, minorities and students from poor households.
State Commissioner of Education Lyonel Tracy said the scores overall were the best he's seen. "It's really good news for our educators and for our students," he said.
Tracy said he has high hopes that President Barack Obama will propose changes to the law that take into account students improving over time, instead of just comparing different groups of students.
"We can only expect that it has to get better, that this administration is going to focus on a personalized education and following the child over time," he said.
NECAP is a collaborative test, designed with Vermont and Rhode Island. Next year, Maine will join the test. Tim Kurtz, director of assessment for the state, said including Maine would save New Hampshire $360,000 in testing costs.
Individual school and district results can be found at www.ed.state.nh.us.