Terminal cancer patient raising money for her 4-legged friends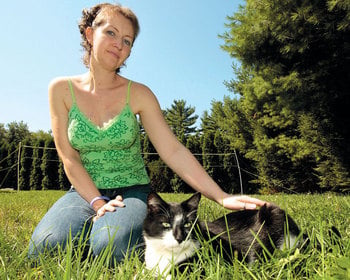 When Kaillee Perry joins the 1-1/2-mile Boston MSPCA Walk for Animals on the Boston Common next month, she'll accomplish two important goals: raising awareness about animal neglect and abuse prevention, and proving to herself and her doctors, that, in her words, "I'm past my expiration date and still able to do it."
The 36-year-old mother of two sons, Patrick, 20, and Devin, 16, is living with metastatic cancer – cancer originating in her breast and lymph nodes that has spread to her liver, lung and brain.
In March 2007, doctors told the Brookline resident she had six to 12 months to live.
Several months ago, Perry signed up for the Massachusetts Society for the Prevention of Cruelty to Animals' fundraiser, knowing that by Sept. 7, the date of event, she might not be able to walk, or even worse, might not be around to participate.
Neither scenario has come true.
"I don't like being told what to do," she said, explaining why she defied her doctors' prediction. "Generally, unless you know me, you wouldn't know I'm sick."
Perry won't be jogging along the route, and she'll pace herself according to how she's feeling that day.
"If it takes me 10 days to it, that's OK," she joked.
She plans to walk with her husband, Rich, a musician, who months back promised to push her in a wheelchair if that was the only way she could participate. Perry will also be accompanied by a cousin who lives in Massachusetts and shares her love for animals.
So far, Perry has raised $300, mostly from family and friends, and she is hoping to increase her contribution.
She said further information, including directions for supporting her efforts, is available at the Boston MSPCA Web site, www.MSPCA.org.
The fundraising venture is a labor of love for the homemaker who has had animals for most of her life.
"I can't imagine life without them," Perry said of her three cats – Salem, a 4-year-old black female; Jingle, a 5-year-old black-and-white male; and Itchy, a feral cat the family rescued about 12 years ago.
It doesn't take much prodding for Perry to share her animal stories, among them a favorite about how her sister-in-law's cat once left home, entered a neighbor's kitchen and brought home a chicken.
"You make the potatoes, I'll bring the chicken," Perry said the old cat seemed to be saying.
At home, Perry's cats demonstrate a similar loyalty.
"They're very vocal. They know how to ask for things," she said, adding that she's able to guess at what they want. "I know they're not asking to go to Vegas."
Notions of "cattiness" notwithstanding, Perry said she has never known a cat to "talk behind my back."
Nor are her cats anything but happy to see her.
"There are no politics, no cliques," she said. "Sometimes, they steal food off your plate."
Perry, who was diagnosed with breast cancer in January 2003 and treated for the next 13 months, said she was in remission for 18 months. The cancer returned in June 2005, two months after she had opened a wedding and prom boutique at Pennichuck Square in Merrimack.
In March 2007, she was told the cancer had spread to her brain and was untreatable. Doctors predicted she had a year or less to live.
Perhaps Perry identifies with the independent streak for which cats are known.
While she has followed her doctors' treatment orders, taking drugs like Herceptin and undergoing radiation and many tests, Perry has refused to accept their pronouncements about how long she has to live.
"It's not the first time a doctor told me to lie down and die," she said.
Perry said she almost died when her mother delivered her 36 years ago, and she had another close call when she was 13 and was accidentally struck in the head by a rock that caused a brain injury.
"I never was one to do what I'm told," Perry said, recalling how she refused to allow doctors to surgically implant a plate in her head.
"I lived to spite that nasty doctor," she said.
On Sept. 7, when she walks to raise awareness for better care for animals, Perry will be fulfilling a goal some may have thought was impossible. She will also be helping her husband, Rich, celebrate his 40th birthday that day.
The walk will be an affirmation of life, hers, her husband's, her sons and the animals, every last one in need of protection.
"The animals need better treatment than what they get," she said. "I'd like to see much harsher laws on abuse and neglect. I'd like to help."