Telltale orange tickets confirm visit by parking enforcement officer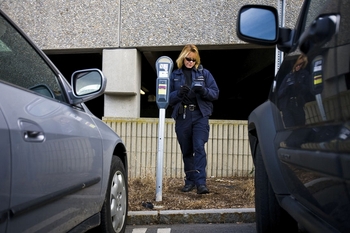 NASHUA – For officer Jennifer Bartlett, the weather outside soon will be frightful.
Officer Aline Kenney, on the other hand, would rather face freezing temperatures than blistering heat.
Snow Miser or Heat Miser, the city's two parking enforcement officers differ on which is worse. But they agree that bad weather is a downside to their job.
In a sense, the two veterans are among the few police officers who still walk a beat. Bartlett and Kenney often can be spotted walking downtown as they patrol for expired meters or cars parked illegally in handicapped spaces or too close to corners.
Even if you don't see them, the telltale fluorescent orange tickets stuck under windshield wipers provide evidence one of the officers had been by.
Only in severe storms do the officers opt to use their vehicles instead of going it on foot.
"I like being outside. I like the exercise," said Kenney, a nine-year veteran.
Bartlett has been on the job for more than seven years. Although they work the same shift, the two can't be called partners in the usual cop sense. Each works a different quadrant of the city, which they rotate each week.
Two of the hotspots for tickets are the Pearson Avenue lot, which is east of Main Street, and the Water Street lot, west of Main Street.
The officers keep their visibility high, which is one reason they say the number of tickets handed out each year has been declining.
"They realize that we show up here every day," Bartlett said as she stood in the Pearson Avenue lot adjacent to The Telegraph building at 60 Main St.
Besides expired meters, the officers also ticket cars parked in reserved spaces.
Some parts of the city tend to pose more of a problem than others for parking violations, Kenney said.
"Usually, where there's a business near residences, I find that to be a problem," she said.
Then there's the issue of cars parked within 25 feet of an intersection, which is illegal "whether there's a sign or not," Kenney said.
Motorists ticketed for parking too close to an intersection frequently raise futile complaints that they didn't know what they did was illegal because of the absence of a sign, the officers said.
Soon, the officers will have to deal with motorists' annual confusion over holiday parking rules, a confusion the officers say was compounded last year by The Telegraph publishing incorrect information.
Parking isn't free downtown during the holidays, the officers said. However, from Dec. 15-26, parking is free at the metered spaces on the first floors of the two downtown parking garages, they said.
Everywhere else, motorists will still have to feed the meters if they want to shop downtown, the officers said.
As a plus, Bartlett and Kenney said they enjoy their jobs and especially enjoy working for the Nashua Police Department.
That helps mitigate the inevitable grief they receive from unhappy motorists they've ticketed.
"We get a good amount of irate people," Bartlett said.
Simply put, "People don't like to get tickets," Kenney added.