Telegraph to print PM Saturday special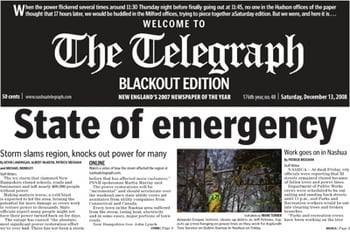 Power was restored to Telegraph offices in Hudson by mid-morning, and the staff is rushing to publish a special 16-page afternoon edition dedicated mostly to storm coverage. It will be for sale on newsstands, and delivered to home subscribers with their Sunday edition. Comics and puzzles scheduled to be published on Friday will appear in the Sunday edition, while the comics and puzzles scheduled for the Saturday edition will appear on Monday.
The ice storm, which knocked out power to 400,000 people in New Hampshire also shut down the Telegraph's printing press, phone system, email and internet access. Staff members covered the story and updated the Web site throughout the day from offices in Nashua and Milford and from area hotels that did have power.