Teen's essay on outreach work boosts giving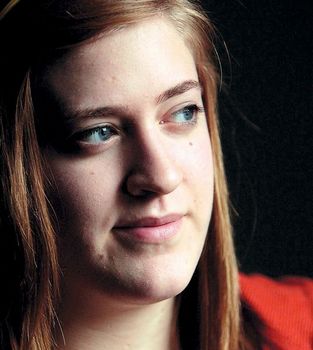 Megan Rottman spent spring break cleaning thick, black mold out of houses and rebuilding roofs. She saw abject poverty and living conditions so awful that she could only describe them as Third World. She saw all of this, and she can't wait to go back next spring break.
In April, Rottman, a junior at Nashua High School South, did missionary work through her church for Re-Member, an outreach project aimed to garner volunteer support for the Oglala Lakota people of South Dakota.
An aspiring writer, Rottman recently combined her passions for writing and missionary work to win the local Pay It Forward contest.
In the contest, contestants submitted essays about how they would use $1,000 to do something good. The top six essays were published in the Health & Wellness supplement in the Sept. 16 Telegraph and readers voted for their favorite essays.
According to Megan Rottman's mom, Nancy, when people at their church learned about the contest, Megan Rottman was "one of the first people that everyone though of."
Megan Rottman, who has wanted to be a novelist since she was 11, enjoyed writing the essay. She did have one problem, though: abiding to the maximum word count.
"It's tough to put (my experiences) into words," she said. "There was so much to encompass and only 750 words."
But she did.
Rottman wrote about her experiences in South Dakota and how she would use the money to help fund future missionary trips to the Pine Ridge Reservation.
On Monday, Brian Kaziol of MyLife Hearing Aids, the contest's sponsor, presented Rottman with a $1,000 check. The money will help her church organize a return trip to South Dakota next spring.
For Rottman, the first trip was eye-opening.
"(The trip) is a good thing to do to put everything in perspective," she said. "It really helps you realize what you have. If you have a chance to realize how little they have and how they make do, you see how lucky you are."
Nancy Rottman, who went with her daughter to South Dakota and on a previous missionary trip to the Dominican Republic, said observing the horrible quality of life in the United States was shocking.
"We anticipated (seeing the poverty) more in the Dominican," she said. "But seeing it, realizing that it exists in (the United States), is scary."
Regardless of the conditions, Megan Rottman found the experience rewarding.
"I just really like being able to help other people," she said. "I'm very excited to go back."
Many others also want to go, as the number of participants has more than doubled from 21 to 53. Rottman's younger sister, Colleen, also plans to be part of the April 2009 trip.
The Re-Member organization requires that all missionary workers be 13 years or older. Colleen, an eighth-grader, who has heard the stories and seen the pictures from the first trip, still plans on entering the experience with an open mind.
"I'm not really sure what to expect," Colleen said. "I've heard so much, but it's hard to imagine what (being there) will be like."
Nancy Rottman feels fortunate for her daughters' willingness to volunteer.
"I'm really proud to have these girls who want to spend their spring break helping others," she said.
Andrew Spinali can be reached at 594-5833 or aspinali@nashuatelegraph.com.