Teen raises more than $23k for camp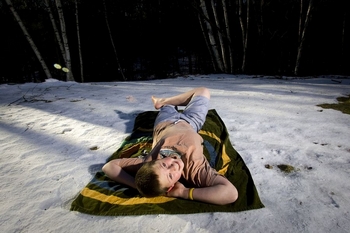 The "polar plunge" purists couldn't have imagined better conditions than what greeted them for this year's New Year's Day plunge: A snowfall the day before, followed by bitter cold and wind on plunge day.
As they've done for more than 100 years now, South Boston's L Street Brownies rang in the New Year by dunking themselves into Boston Harbor on Thursday. And for the fourth year, a Hudson youth was among them.
Joey Cerato, a 14-year-old freshman at Alvirne High School, founded "Joey's Polar Plunge" to raise money for his family's favorite cause, Camp Sunshine, a Lake Sebago, Maine retreat for seriously ill children and their families.
Each year his donation total has grown, and according to his parents, this year's figure stands at $23,500 so far.
That total could grow by a thousand or so dollars when all the donations are in and accounted for, said Mark Cerato, Joey's father.
Joey's team, which began with him and his brother, has also grown over the years.
"This year we had over 60 people," Mark Cerato said. "It was very successful."
News reports state that the entire group of plungers may have come close to 500 this year. Cheryl Cerato, Joey's mom, said a relative who lives in South Boston told her the number was a record for the Brownies.
Joey Cerato got involved with polar plunging to help Camp Sunshine, where his family began volunteering several years ago after Mark Cerato was diagnosed with cancer. Cheryl Cerato's father had died from cancer when Joey was a toddler.
The L Street Brownies, believed to be the nation's second-oldest polar-plunge club, was formed in 1902. Members pledged to swim every day of the year, no matter the weather. The club took its name from the L St. Beach where its members swam and from the nut-brown swam and from the nut-brown skin color many of them developed from daily exposure to the sun.
They started the New Year's Day plunge tradition in 1904, club history states. The event involved men only, until women joined in the 1980s.