Teacher took comparison shopping challenge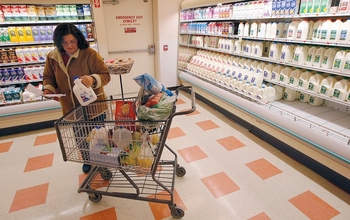 For years, high school teacher Regina Sullivan did her weekly Friday afternoon grocery shopping at the store closest to her Merrimack home, a Shaw's Supermarket.
Like all Merrimack residents, Sullivan doesn't have another option if she wants to stay in town to do her shopping. There are two grocery stores, and both are Shaw's.
And for years, Sullivan's friends asked why she wouldn't drive just over the Nashua line to save money at a grocery store less known for its aesthetic appeal but widely thought of as less expensive.
"People would always make comments like, 'Oh, Shaw's is so expensive.' I never paid attention," Sullivan said. "I thought Shaw's was a beautiful store and I knew my way around it."
But when the economy headed south, Sullivan, a family and consumer science teacher at Souhegan High School in Amherst, decided to put all that talk to the test by shopping at Market Basket one day. What she found amazed her.
"This was not nickels and dimes," Sullivan said. "I was just astounded by the price differences."
Hard Times: Reasons & remedies
Sullivan said the first price difference that caught her eye was the 18-ounce package of Dole raisins her husband likes. She had been paying $4.79 at Shaw's, but it was $2.99 at Market Basket – a difference of $1.80. That's when she started getting excited.
"I was like a kid in a candy store," she said.
Soon, the simple homework assignment morphed into a seven-week project. Sullivan continued to track prices from week to week, comparing more than 80 food and toiletry prices at Market Basket to what she had been paying at Shaw's and logging the data on an Excel spreadsheet.
She made note of the each product's weight in ounces or pounds to compare the proverbial "apples to apples."
By the end of the experiment, Sullivan said she saved an average of 75 cents per item by shopping at Market Basket.
"Think of the amount of items that were in my shopping cart," she said. "That's huge."
She started telling her friends; first, the group of women she meets every Saturday morning for coffee. Three of five have switched stores, she said. She then showed the list to teachers at her school.
Sullivan emphasizes that she isn't trying to harm Shaw's by spreading the word about her savings. She still shops there for some specialty items she can't find at Market Basket.
But, during these times, letting other people know about a way to save money seemed like the right thing to do, she said.
"It's not about putting anybody out of business," Sullivan said. "It's about trying to help other people in this economy save money.
"I thought I just could be a responsible citizen and share the information."