Teacher finds new career at head of the class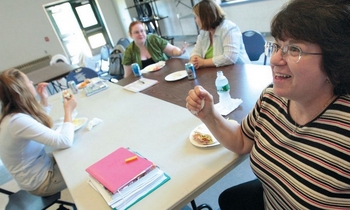 HUDSON – Joy Whitaker spent 20 years working for the phone company, but only recently found that teaching is her calling.
Whitaker was among the roughly 40 new teachers getting their first taste of the Hudson School District at the new teacher induction at Hills Garrison School this week in preparation of the new school year.
While Whitaker, 50, and her compatriots, new teachers from all of the district's six schools, learned about the district's mission, goals and procedures, she also had time to think about the winding road that led her to a second career teaching English to pre-teens at Hudson Memorial School.
Whitaker, a Merrimack resident, worked for Verizon, and all its previous incarnations, since she was in high school and retired in August 2007. It was nine years earlier though that she began to pursue a career she could love.
It started when her first husband died in 1999.
"It was kind of one of those life-changing events," she said. "I said 'I'm not going to work for the phone company forever. What do I want to do?' The teaching thing just fell into place. It feels like it's what I'm meant to do."
Whitaker attended Rivier College in 2001, taking a class per semester on the "nights, weekends, vacations plan." With four classes left to complete her Masters of Arts in teaching when she retired, she enrolled full time.
"If you haven't done that in a while, it's overwhelming," she said.
She graduated in May and took a job teaching sixth-grade English at Hudson Memorial School.
"Now I'm going to do something I can really sink my teeth into and smile when the alarm goes off and show a bunch of kids how exciting the real world is," she said.
Although she's diving headlong into teaching later in life than most, Whitaker said she's always had a feeling she would be in education.
She spent a few semesters at college immediately after high school working toward a degree to teach art, but dropped out to go back to work at the phone company.
"I could make good money at the phone company," she said.
Whitaker has already spent about eight days in her classroom at Hudson Memorial, cleaning, rearranging and decorating. She's also spent time learning the district's curriculum and "re-reading books that I read as a kid."
Although she hasn't taught aside from a short stint as a student teacher as part of her degree, she thinks having more life experience will be an advantage to her students.
"I'm very confident I have the tools to do a good job," she said. "I'm just excited. I'm really not nervous. I'm excited because for the first time in a long time I'm doing exactly what I want to do."
Assistant Superintendent Mary Ellen Ormond ran the two-day new teacher induction. She said it's an important program to prepare teachers new to the district for working in Hudson.
The teachers heard from Superintendent Randy Bell and Hudson School Board Chairman David Alukonis about the district's mission, and learned about procedures and programs such as emergency management, the teacher assistance programs and special education.
The last half of Thursday, teachers spent with the principals of their new schools learning other building-specific procedures such as how to enter grades in the schools' software programs and emergency exit routes.
"It helps ground the new staff coming in. It puts them more on equal footing," Ormond said.
"They walk into the classroom knowing . . . all those things everyone else already knows."