Taxes the talk of Chamber's legislative update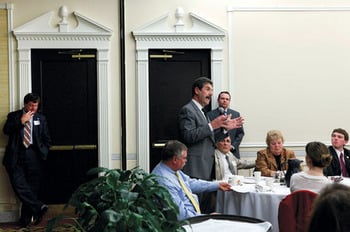 NASHUA – There's no shortage of activity at the Statehouse as the Legislature nears the midway point of the 2009 session, and no shortage of bills the Greater Nashua Chamber of Commerce is lobbying for or against on behalf of the area's business community.
The Chamber held its annual legislative dinner Tuesday night at the Crowne Plaza Nashua to update members on the fate of several bills being debated this year, including one that could dip into the pocketbooks of downtown property owners.
That bill, HB 320, would allow a central business district to use fees generated from property owners in the district for capital improvements.
The Great American Downtown is pushing the bill, which the House passed recently.
The districts are already allowed but the revenue generated can only be used for things like sidewalk cleanup and advertising. The bill would allow the district's advisory committee to spend up to $20,000 on infrastructure projects, according to Terrence Williams, president of the Great American Downtown board of directors and publisher of The Telegraph.
"We'd like the flexibility to do some things you can actually touch and see," Williams said.
If the bill passes the Senate, more legislation would have to pass the Board of Aldermen, which Great American Downtown hopes to accomplish this summer, Williams said.
More photos
Christopher Williams, chamber president, said the details of the proposed district are still being worked out but it would include Main Street at least and would cost qualifying property owners anywhere between $100 to $7,000 a year.
Most business owners he's talked to have been open to the idea, Christopher Williams said.
"I think it's cautious optimism," he said.
Jody Gage, owner of Fortin Gage Flowers and Gifts, supports the district despite the prospect of what effectively would be a new tax.
"You have to take the broader picture into consideration," he said. "It's only going to help in the long run."
Christopher Williams, Jeff Rose, chairman of the Chamber's state advocacy committee, and a number of state legislators discussed several other bills.
One of those included SB 5, which would prohibit state retailers from giving private customer information to other states, including Massachusetts, for the collection sales or use taxes.
"What it comes down to is the state of Massachusetts attempting to use New Hampshire retailers as their tax agents," Christopher Williams said.
He said that would impugn the state's reputation as a tax-free state and "cripple" retailers throughout the New Hampshire.
Rep. Jane Clemmons urged business owners to pressure senators to take up bills that have already been tabled that would allow for expanded gambling in the state. Without it, she said, other taxes and fees will have to increase since it's clear a statewide income or sales tax is not in the offing.
"Gambling is about the only thing we have left," she said.
The Chamber hasn't issued its recommendation on a number of gaming-related bills taken up this year. Christopher Williams said it wouldn't until the state budget picture is more in focus and it's clearer how much new revenue sources are needed.
Other bills mentioned during the two-hour event, which PSNH and Law Warehouses sponsored, included one that would impose tighter restrictions on health record access and one that would establish stricter standards for closing businesses or plants that employ more than 75 people.