Tax aides' efforts on returns produce $2.2m in refunds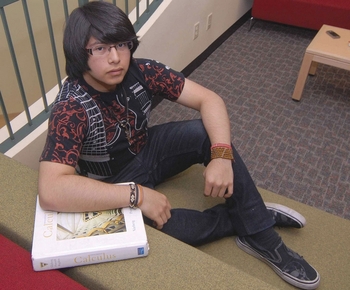 NASHUA – At 19, Alvaro Molina-Tomala is the most proficient English speaker in his family.
Even with his help translating for his parents, filing the family's income tax returns posed a giant obstacle – but one made less daunting by the help of a volunteer from the Greater Nashua Asset Building Coalition.
More than 1,700 local households received assistance from the United Way member agency in filing their 2008 federal tax returns. The returns, representing an increase of 25 percent from last year, generated nearly $2.2 million in refunds, according to the coalition.
In announcing the increase, coalition members point to the Molina family as one of its biggest success stories.
"We're just so happy and proud to help them," said Rhonda Morris, a volunteer who helped prepare the Molina family's return. "They work so hard," she said.
Classified as legal alien residents, the family emigrated to the U.S. from Ecuador so Alvaro could get a better education. Settling first in New York City, the family came to Nashua in 2005. "It was too noisy there," Molina-Tomala said of New York. "We came to New Hampshire because it's easier to raise a family."
Molina-Tomala is a full-time student studying mechanical design at Nashua Community College. When he completes his two-year degree next year, he hopes to study mechanical engineering, perhaps at the University of Massachusetts Lowell.
His father, Alberto, was an industrial engineer in Ecuador and now works the overnight shift in the engineering department at the Courtyard by Marriott. His mother, Silvia, holds two jobs. In the mornings, she works full time as a housekeeper at the Courtyard by Marriott in Nashua. At night, she works part time for UNICCO, a cleaning company that services local office buildings.
Alvaro Molina-Tomala appreciates his parents' hard work. He could have gotten an education in Ecuador, he said, but he'll get a better one here.
The coalition's free tax services target low- to moderate-income families, said Ray Peterson, coalition coordinator and vice president of United Way of Greater Nashua.
Filings were up 74 percent at Triangle Credit Union, where 165 people took advantage of the free tax-preparation service, according to the coalition.
This is the largest increase of any such service in the state.
The coalition also repeated the service at the Nashua Public Library and the Wadleigh Memorial Library in Milford and offered it for the first time at the Merrimack YMCA.
With 1,197 electronic tax filings this year, Nashua Public Library is the second-largest, free tax-preparation site in the state, slightly trailing the AARP Information Center in Concord.
"I've been a volunteer for the United Way forever," Morris said.
Retired from Anheuser Busch, Morris served for 16 years as a volunteer through the Executive on Loan program. She said she "retired" from that and has been volunteering to help with the tax returns for the past five years.
The assistance his family received has made an impact on Alvaro Molina-Tomala, who now volunteers at the Nashua Soup Kitchen & Shelter.
He said he'd also like to help the coalition, perhaps volunteering to serve as a translator for other Latino families.