Swine flu suspected in Derry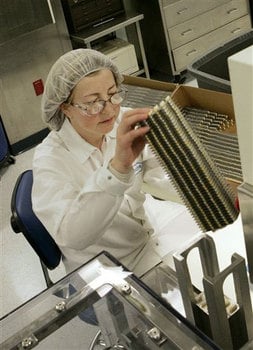 A ninth probable case of H1N1, so-called swine flu, has been reported in New Hampshire. All the patients, including two 13-year-olds in Nashua, "are recovering and doing well," according to state health officials.
The New Hampshire Division of Public Health said Wednesday that an adult from Derry is the latest person with a probable case of H1N1.
Two of the nine cases have been confirmed as being H1N1 by the federal Centers for Disease Control. The others are awaiting test results.
The Derry resident had not gone to work since getting infected, "so no other exposures have been identified in connection with this individual," according to state health officials.
The two cases in Nashua are apparently unrelated, according to the state. One attends school outside the city, which is closed for the week. The other one attends public school, but officials say that child has not been to class and the city has not closed any schools.
Both state and federal officials say that H1N1 is proving to be no more dangerous that other seasonal flu, and do not recommend that schools close if cases are found among their pupils.
Through Wednesday afternoon, the DHHS Public Health Labs have tested 408 samples. Of those, 381 tested negative for any type of flu, 18 samples tested positive for seasonal flu, and 9 tested likely for H1N1.
Health officials recommend that people stay home from work or school if they feel sick; cover their mouth and nose with a sleeve when coughing or sneezing; and wash hands frequently.
For questions about H1N1, possible symptoms, travel information, or other issues related to this illness, call 1-888-330-6764 from 8 a.m.-8 p.m. daily.