Summit gives more women the inspiration to lead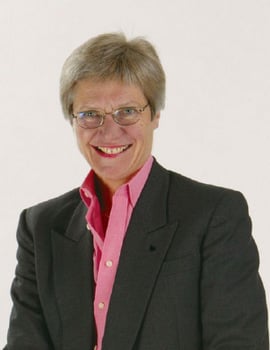 Concern was the first reaction of Southern New Hampshire University professor and ethics chair Dr. Annabel Beerel after reading a recent report by the New Hampshire Women's Policy Institute that brought to light the inequality and wage disparity that still exists between men and women in New Hampshire's workforce.
Her second reaction? A decision to take action.
"After reading 'The Economic Status of Working Women in New Hampshire,' I thought, 'Wow, this is incredible. Who knows about this and what's being done?'" said Beerel, who in June 2006 was named SNHU's Papoutsy Distinguished Chair in Ethics, charged not only with teaching ethics to her students but promoting ethics across the university's campus and throughout the community.
"This is a huge ethics issue, one that shows our economic system is systemically deeply flawed. I thought, 'How can we step up to the plate?'"
Beerel's answer came in the form of New Hampshire's first Women's Leadership Summit, entitled "Advancing Society by Advancing Women," which, after nearly a year of planning, was held June 13 at SNHU.
More than 500 women attended the daylong event, which was designed to promote awareness of the professional capacities of New Hampshire's working women and the skills they need to secure professional leadership roles.
"This summit was designed to offer professional development, networking and mentoring opportunities and guidance to women – both on a personal and professional level," said Beerel. "We wanted to give women the tools they need to become more confident in asking for, taking on and sharing leadership roles in businesses and nonprofit organizations and on boards."
According to statistics compiled by the New Hampshire Women's Policy Institute, while women make up 47 percent of New Hampshire's workforce, only 9 percent of the seats on the boards of publicly held corporations in the Granite State are held by women. And full-time working women in the state earn an average of 71 cents for every dollar earned by men.
"The institute's research shows women in New Hampshire are an underutilized resource for leadership, and their economic status lags behind men's," said Katherine Merrow, executive director of the New Hampshire Women's Policy Institute. "This conference provided the tools needed to address these issues."
Economic issue
While it was the research completed by the Women's Policy Institute that served as the catalyst for the recent summit and Beerel's desire to ignite change that gave birth to the idea, it took the collaborative effort of 55 New Hampshire businesses and organizations to bring the idea to fruition.
The daylong event showcased more than 50 speakers and presenters, including a keynote address by Robin Roberts, co-anchor of ABC News' "Good Morning America" and author of "From the Heart: 7 Rules to Live By."
Additional speakers included Geri Denterlein, author of "The Power Chicks Guide to Boston: In Their Own Words" and founder of Denterlein Worldwide; Sara Laschever, co-author of "Women Don't Ask: The High Cost of Avoiding Negotiation – and Positive Strategies for Change," and Tina Packer, co-author of "Power Plays: Shakespeare's Lessons in Leadership and Management."
Those in attendance also had the opportunity to choose from 22 different workshops led by business and nonprofit leaders from New Hampshire and around the world.
Topics covering leadership and professional development included everything from securing a position on a corporate board and preparing for a leadership position to conflict management, strategic mentoring and financial planning for young professionals.
Presentations addressing the "new realities" facing business leaders today touched on numerous topics of interest, including opportunities in science and technology, green initiatives and sustainable investing and wellness.
For Beerel and others involved in the recent summit, addressing current inequalities in New Hampshire's workforce is more than just an ethical issue – it's important to the overall economy of the Granite State.
"As baby boomers retire and our young workers continue to leave the state, we are going to see a shortage of skilled, mature decision makers," said Beerel. "In order for New Hampshire to remain competitive it's going to be all hands on deck."
Beerel believes strongly that continuing a discussion among all of the state's business leaders – men and women – will be critical to New Hampshire's economic survival in the future.
"Ideally, within five years I hope to see this become the annual Leadership Summit, where there will be an engagement of combined roles among men and women and where they will come together to create a vibrant and balanced workforce," Beerel said.