Summer trip shows teens NH – every last inch of it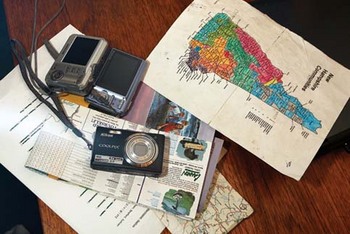 If Carolyn Chakuroff and David Robinson are asked this fall to write about their summer vacations, it'll be a trip. The friends and recent Merrimack High School graduates, both 18, just wrapped up their quest to visit every community in the Granite State.
The idea developed in the spring, when, just for fun, the pair and their friends designed a 24-hour scavenger hunt. Teams had to hit a long list of various destinations – like posing with the welcome sign in the town of Weare – and snap a picture to prove they'd made it. Those with the most proven visits won.
Well, Chakuroff and Robinson were part of the victorious team, and the whole thing gave them an idea: What if they tried getting a picture with other town signs? Or even, with every town and city sign in the whole state?"We were like, let's just do it," Chakuroff said.
"I told my mom I was taking off," Robinson said. "She's like, 'You're crazy. OK. Be safe.' "
At the end of June, and in between their summer jobs, they started making road trips through giant swaths of New Hampshire, using a color-coded map to keep track of their travel. (After a GPS steered them wrong, they stuck to old-fashioned paper).
They took his 1996 Chevrolet Lumina or her 2001 Toyota Corolla and hit the road, stocked with plenty of bottled water, alternating between who drove and who rode shotgun to navigate.
Sometimes, they left as early as 5 a.m., not returning until well into the night.
Every few days, they tackled a new direction and a new set of communities.
In each town or city, they set up a tripod and camera to document their arrival near a sign announcing the town or city.
Some were particularly amusing, they said, such as "Come here to be and find a friend" (Sutton); "The city built by trees" (Berlin); and "We want your business to be our business" (Epsom).
"It sounded kind of nosy," Chakuroff said of the last.
In some communities, they posed with other identifying entities, like a post office (Monroe), a fire department (Belmont), a police cruiser (Charlestown), an animal hospital (Claremont) and a taxidermist shop (Stratham).
Along the way, Chakuroff and Robinson learned more than a few things about New Hampshire. For one, the Cornish-Windsor bridge is the longest covered bridge in the United States. For another, there is no easy way to get to Easton. And last, contrary to Chakuroff's original thinking, the land above Concord is not all trees and lakes.
There were mishaps, to be sure, like the unexpected detours into Vermont, Massachusetts and Maine – all in the same day. Or the mystical camera problems in which the pictures of Littleton and Canterbury somehow disappeared. And of course, the New Castle debacle – as in, they forgot to go there and had to backtrack completely.
Chakuroff and Robinson logged their longest trip to the Great North Woods last. They grazed the Canadian border and found Hart's Location, too, the smallest physical town in the state.
In nine trips, they visited all of New Hampshire's 221 towns and 13 cities – plus two unincorporated places – in 94 hours on the road. (Regrettably, they forgot to clock the mileage.)
More than 1,000 photos shot show the pair hamming it up with pun-induced poses. Flexing their "tough" muscles in Tuftonboro. Hopping in Hopkinton. Acting penniless in Pembroke. Munching subs in Sandwich.
All in all, the friends said they're glad they embarked on such an adventure.
"I'm glad we were productive this summer," Robinson said.
Chakuroff said she visited the New Hampshire Historical Society Museum and saw a presentation on the state.
"I could say, 'I've been there. And there. And there,' " she said.
In the meantime, both are preparing to cross the state's borders with purpose this fall.
Chakuroff is headed to St. Lawrence University in New York, and Robinson to Fitchburg State College in Massachusetts.
If they find any time next summer, they say they're thinking of taking on Maine.