Study: N.H. is a great place for medical manufacturing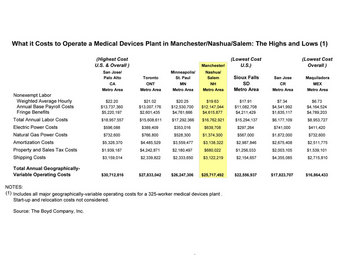 A New Jersey site selection firm is giving southern New Hampshire high marks, particularly when it comes to medical manufacturing companies.
Princeton-based The Boyd Company Inc. recently examined key business costs in over 55 metropolitan areas across the country as well as several foreign cities for a hypothetical 175,000-square-foot manufacturing plant employing 325 workers and shipping to a U.S. market.The result: The Manchester/ Nashua/Salem area was the least costly place to do business in the five New England areas it reviewed. (See Manchester Cost Comparison Chart)The study estimated annual operating costs in New Hampshire for the hypothetical plant to be slightly more than $25.7 million.This compares to the $29.3 million estimated in Fairfield, Conn.; $27.6 million in New Haven/Milford, Conn.; $28.6 million in Boston/Natick, Mass.; and $27.2 million in Worcester/Marlborough, Mass.John Boyd Jr., principal of The Boyd Company, said the 55 cities in his survey "are all on the corporate radar screen like never before. The trend now in life sciences, particularly in medical devices, is cost-cutting."The most expensive city in the metro area study was San Jose/Palo Alto, Calif., with an estimated total annual operating cost at more than $30.7 million. Sioux Falls, S.D., was the most economical, with overall costs at $22.6 million.Near-shore locations in San Jose, Costa Rica, and in the border regions of Mexico were about $17 million.Boyd said two "big picture" trends driving the cost-cutting measures of medical device manufacturers are the Patient Protection and Affordable Health Care Act and the potential for stricter Food and Drug Administration regulations."Under the health-care reform act is a new 2.3 percent tax on medical devices, set to go into effect in 2014," said Boyd. "This new tax is going to very burdensome, especially on smaller companies, which operate on very slim profit margins."Whether or not the provisions of the year-old landmark legislation actually do take effect, said Boyd, is immaterial as "businesses are already gearing up for the tax.""The result is the move to smaller, lower-cost cities with a precedence in health care," said Boyd.He also said the FDA is contemplating more stringent regulations on non-invasive, non-critical devices, such as contact lenses and orthopedic braces."That would be a tremendous cost burden to the industry. That would be good for Manchester versus the prohibitively expensive Boston area," said Boyd.New Hampshire's lack of an income tax and a sales tax is the single most important factor in keeping costs down against the other New England cities, according to the study.Boyd estimated New Hampshire's property and sales taxes for the hypothetical plant at $680,022 a year – easily the lowest in New England and the second lowest of all 55 cities studied.(Oregon also has no sales tax, and was the least expensive in the study for taxes.)"At a time when Massachusetts is raising its income taxes, New Hampshire enjoys being the only state in the region without a personal income tax. New Hampshire is the most pro-business climate [in the region]," said Boyd.Neighbor to the northBesides taxes, other factors examined included labor costs. Boyd estimated such costs in the Granite State as the lowest in New England, at $16.7 million a year.Energy and shipping across the five New England cities were all some of the highest in the study, and New Hampshire was no exception. But Boyd said these aren't big concerns for potential medical factory owners considering the Granite State."Labor costs dominate the equation for a facility like this. Real estate and construction costs are also very important," said Boyd. "These costs are itemized over 25 years. A $5 million or $6 million savings in Manchester over San Jose, Calif., is actually a $125 million savings."Commercial real estate is always a crucial factor for any company to consider regardless of the general economic environment.New Hampshire's amortization costs of $3.14 million were in line with most other cities, both in New England and nationally. Amortization costs in California and cities in Canada were nearly $2 million higher, in some cases, compared to the U.S. cities."In the context of the Northeast, industrial space here is a tremendous bargain," said Boyd.Another of New Hampshire's advantages, said Boyd, is its proximity and close relationship with Canada."I think Governor Lynch recognizes the ability to attract Canadian investment like never before, with the parity with the Canadian dollar and all the special synergies you already enjoy with the Maritimes and the proximity to Halifax," he said. "We currently see a lot of Canadian firms looking to invest in the U.S. for the first time in 30 or 40 years, and New Hampshire will be on the radar screen for those projects."With the case made and all the advantages the Granite State has to offer, why hasn't a major medical device firm already made a home in southern New Hampshire?The short answer, said Boyd, is that firms are indeed currently looking at New Hampshire, but he declined to name them."The timing is perfect for small cities like Manchester," said Boyd. "(They're) really poised to attract a significant portion of the industry."Cindy Kibbe can be reached atckibbe@nhbr.com.