Students mixing politics, artwork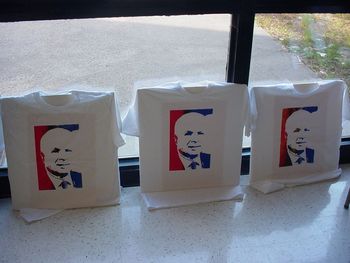 A group of Merrimack High School students is lending artistic flare to the nation's political landscape.
Inspired by renowned pop artist Andy Warhol, the school's National Art Honor Society members are producing custom, silk-screen T-shirts that feature the presidential candidates' faces.
The group's adviser and art teacher, Shanna Gray, got the idea from a "pop politics" exhibit at the Currier Museum of Art in Manchester. Her students latched on from there.
Kevin St. Pierre, of Deluxe Expressions in Nashua, donated the screens – essentially stencils to lay over blank T-shirts – showing Sens. John McCain, R-Ariz., and Barack Obama, D-Ill., and Ralph Nader.
At lunch periods last week, the students used the screens to make custom-colored shirts for the school community at $10 a pop.
The gig was so popular that the students are still taking orders, Gray said.
The 25-member honor society has raised $500 to put towards a spring field trip for art workshops in northern New Hampshire.
Anyone interested in purchasing a shirt can e-mail Gray at shanna.gray@merrimack.k12.nh.us.