Students help build home for family hit by flooding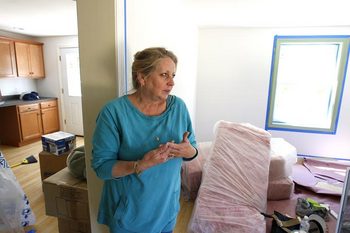 BENNINGTON – Patricia Collins and her mother, Stella, can finally enjoy listening to the rain without having to worry about the river.
After being flooded out of their home more than two years ago, they finally have a place to live again now that the building trade students at Alvirne High School and nonprofit organization There's No Place Like Home got together with businesses around the community and completed the construction of a modular home. The home was moved from Hudson to Bennington and placed in an area that will no longer be affected by the rising water.
"The best part about all of this is that people in New Hampshire care this much," Patricia Collins said. "The fact that this program actually exists for people in need is pretty incredible."
John Conrad, the building trades instructor at Alvirne, got together with There's No Place Like Home at a seminar in 2007. The faith-based nonprofit organization was created in 2006, a few weeks after Hurricane Katrina devastated the Gulf Coast states. The pastor of Grace Community Church in Rochester called on the people attending the church to think of ways to help the victims of the hurricane. Building trades students at the high school started constructing a new home to donate to a family in Louisiana.
After realizing there were people in New Hampshire suffering from floods as well, they decided to see if they could help some people closer to home.
"When No Place like Home came to me and explained what they did, I thought it would be a great experience for the kids, not only to learn how to build a house, but to help people in need, and help people who are down and need the help," Conrad said. "So it served a couple of different purposes."
From there, Conrad and his students started the nearly two-year process of completing the modular home. However, the task was difficult. Unlike paid labor workers, the students were limited in the amount of time they could do each day because of class restrictions.
"The short amount of time was the hardest part," said Colin McGrail, a junior at Alvirne High School. "We only have a certain amount of time during class periods, so you had to get in and be ready to work."
But despite the large amount of work, it was easier for the students knowing it was for a good cause.
"It's awesome," said Joe O'Hearn, a junior at Alvirne. "Just knowing that we can help out someone that needs it is great."
And the Collins family was certainly in need.
Their house sat directly across the street from the Contoocook River. Heavy rain could quickly turn the waterway into a rising torrent. After two previous floods, the worst thing possible happened in April 2007 when they were forced from their home again due to flooding water. However, this time, they weren't able to move back in.
They spent two weeks living out of Patricia's office on a blow up mattress on the floor, followed by six-months in a travel trailer, then finally a farmhouse apartment. Their house was finally completed after more than two years of living away from home.
After the house was built, it made the 65-mile drive from Hudson to Bennington where the Alvirne students met their homeowner for the first time.
"We've been working on this for almost two years," said Kyle Kenyon, a junior at Alvirne. "Its really nice to put a face to the name."
The single story ranch featured three bedrooms and two bathrooms. Once it was on site, it was fitted and placed on the foundation at the top of a hill, further away from the river.
"I was here parked in the driveway when they put it in," Collins said. "To see them bring that big thing in and then just set it down on the foundation like it was a piece of paper or something was unbelievable. I wouldn't have missed that for the world."
Besides the help from the There's No Place Like Home, the students also received funding and support from various businesses around the area. Chamberlin Electric, Smith Plumbing & Heating, Progress Drywall and Specialty Kitchens all make donations and helped the students with various aspects of building the house.
Their generosity did not go unnoticed by Collins.
"It's a lot of hard work for everyone," Collins said. "All the people are volunteers. They don't have to do it, they don't get paid, they don't even get any recognition, really. The idea that they'll do all that for somebody they don't even know is pretty incredible."
And after more than two years of waiting, the Collinses finally have a place they can call home again, thanks to the hard work of the students at Alvirne High and businesses around the community.
"It's been pretty traumatic, so it's going to be so nice to just settle down here and enjoy life again," Stella Collins said.