Students compete in test of skills, nerves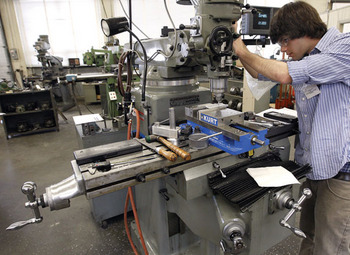 NASHUA – Several students were sitting silently as they nervously waited to perform a task under timed circumstances in front of a panel of judges in the SkillsUSA competition.
However, Erich Engelhart, a junior at Nashua High School North, said he wasn't one of those who were nervous.
"I've been in a lot of competitions that require poise under pressure," Engelhart said. "Do it right, do it quickly."
The SkillsUSA competition goes on in different locations with different programs on different days. On Friday at Nashua Community College, it was the automotive and leadership skill students' turn to compete.
"It tests your ability under stress," said Brian Meehan, a senior at Nashua South. "It really grades how good my skills are."
While Engelhart and Meehan were eating their lunch and preparing for the second portion of their competition – to produce an actual automotive part within an hour – North junior Alex Pelkey, the third member of the Nashua High Automotive Program team, was still competing.
"I think this is going to show me there's a deadline for everything," Engelhart said.
"It's going to show employers I've been tested," Meehan added.
Ed Panessiti, in his second year as a machine technology instructor at Nashua North, was impressed with his students.
"They're talented; it reinforces their knowledge they are learning in shop," he said.
Engelhart, Meehan and Pelkey are familiar with one another, since they're also teammates on the Nashua High FIRST Robotics team, and they know what one another is capable of doing.
"It gives them a real idea of their skills," Panessiti said. "This is going to be great on their resume."
Engelhart said Panessiti has prepared them well for this competition.
Panessiti had nothing but positive comments about his students. "I'm proud of them. They're going to win," Panessiti said. The results will be announced Sunday, March 29.
Unlike the Nashua students who said they weren't affected by nerves, the three juniors in the culinary program who traveled from Plymouth Regional High School were anxiously waiting in the holding area.
"We may not do so good," Spencer Tinkham said.
Tinkham, Ashley Moody and Chelcey Nunes were in their first SkillsUSA competition and almost had too many butterflies to talk about it.
"I don't know anyone I am going to be presenting in front of," Moody said. "That's my biggest fear."
Sitting alone at a table, gathering her thoughts, Becky Osborn, a junior at Keene High School in the Communications Systems Technology Program, was waiting to do her five- to seven-minute prepared speech.
"I've given speeches before, but I've always been able to pick my topic," she said.
The topic given was about the SkillsUSA slogan and what it meant to her, and it had been revealed to her only a few days in advance – Tuesday.
Although she was competing for the first time, she already felt this would be beneficial in her future.
"It's exposing me to what I'm going to need to do in college or to get a job," Osborn said.
Preparing students for job interviews, building resumes and performing under pressure are all offered by this program.
"It validates their skills and gives them confidence," said Terry Berube, adviser for SkillsUSA at Salem High School.
Nancy Gaudet, membership secretary of SkillsUSA in New Hampshire, said she has seen a lot of students go on to other schools and making a career out of the skills they started perfecting in high school and competitions in which they've been involved.
"It teaches them professionalism and prepares them to be able to do their best in any area that they pursue," she said.
Courtney MacKay can be reached at 594-5833 or cmackay@nashuatelegraph.com.