Student remembered for smile, giving nature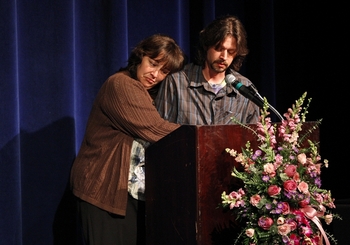 MILFORD – On Friday, community members said goodbye to two high school sophomores who were killed in a car crash Monday night.
A public funeral was held for 16-year-old Gage LaFontaine at the Amato Center. About 300 people came to pay their respects.
A private service was held for fellow 16-year-old Alex Betty. The two were pronounced dead at the scene of a car accident the night of April 27 on Route 13 in New Boston.
The driver, Gino Olsen, 16, of Milford was taken to Children's Hospital Boston where he remains in critical condition.
At LaFontaine's funeral, Milford United Methodist Church Associate pastor, the Rev. Chris Willard, spoke about the mystery of life and death and the hope of resurrection.
At the podium, Cameron LaFontaine, Gage LaFontaine's younger brother, said he can sense Gage LaFontaine's spirit when he is alone.
"Keep giving me those signs," said Cameron LaFontaine. "Keep talking to me like you have been."
Gage LaFontaine's father, Scott, recounted a story that hinted to what Willard spoke of – the hope for life after death.
Scott LaFontaine explained that when Gage was a little boy he usually didn't mind sharing his toys.
But one day his mother, Tracie, noticed that he refused share his toy camera. When the shutter button was pressed, the camera would say, "Smile say cheese."
The young Gage LaFontaine explained he wouldn't share the camera because he thought it was saying "smile Gagey."
"Smile Gagey," went on to become a family expression.
"Throughout our wonderful years together so many of us would be overheard saying 'smile Gagey' because your smile was like rays of sunshine on a cold winter day," said Scott LaFontaine, trembling with emotion.
The second half of the story begins when Tracie's friend, Mary Golding, of Wilton, was in the process of leaving her house to comfort Tracie LaFontaine after Gage LaFontaine's passing.
As Golding was preparing to leave, her four-year-old son, Alex, asked where she was going.
Golding explained to Alex that she was going to see a mother who lost her boy. Alex apparently misunderstood. He thought Gage had gone missing.
Alex went through his toys and pulled out a toy camera. Alex told his mother that he wanted her to give it to Tracie LaFontaine so her boy could have it.
Alex's camera also said "smile say cheese" when the button is clicked.
Golding said she was stunned that out of all the toys Alex had, he picked a camera that is similar to the one that Gage had loved so much.
Golding believes Gage LaFontaine was sending a sign through her son Alex.
"You have to believe his spirit is all around us," said Golding in a phone interview. "To pick that toy out . . . is just amazing."
Jacob LaFontaine used his time at the podium to describe how he set out to be "the best big brother in the world" after Gage was born. But Jacob said he was naive to think he had all the time in the world.
At the podium, Scott LaFontaine also spoke of how Gage made him proud on the ice as a hockey player.
Perhaps Gage's finest moment occurred during the 2007 state championship game between the Hollis Cavaliers and a team from Concord.
Prior to the game, Gage announced to his father that he would like to score a goal that clears his team's bench and he did.
With the game tied 2-2, Gage LaFontaine went on a breakaway.
Concord's goalie threw his stick at the puck while Gage LaFontaine streaked toward the net, said Scott LaFontaine in an interview after the service.
After the play, Gage protested to the ref and called for a penalty shot. The referee agreed and Gage went on to score the game-winning goal. Hollis players jumped off the bench and celebrated on the ice after the shot went in the net.
Zach Harper, a classmate and close friend of Gage LaFontaine, said he remembers how Gage taught him how to play hockey.
"It was one of the best things I've ever done," said Harper after the service.
After the funeral, Scott LaFontaine described what he thinks his son would tell people if he could speak to those observing his memory.
"I think he would tell us not cry for him and that he'd want everyone to keep living life," said Scott LaFontaine.
The LaFontaine family is creating a fund to assist parents who couldn't otherwise afford to pay for youth hockey. Donations may be made to Gage LaFontaine Youth Hockey Memorial Fund c/o TD Banknorth, 57 South St., Milford, N.H. 03055.