Stonyfield Institute offers tips for tough times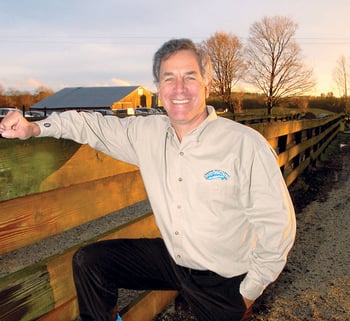 Context is everything, especially when entrepreneurs and businesses at all levels are facing a once-in-lifetime national economic crisis. How to make it through the economic storm — and come out stronger on the other side — will be one of key aspects of the fifth Stonyfield Farm Entrepreneurship Institute, which will be held April 16-17, for the first time at the University of New Hampshire.
"I think this year is going to be pretty special," said Gary Hirshberg, chief executive of yogurt maker Stonyfield Farm, who conceived the program more than a decade ago. "No matter what kind company you have, if you're in business today you're struggling. This helps people realize they're not alone, but also there's tremendous urgency."
The popular institute — of which NHBR is a sponsor — is expected to draw more than 175 participants this year. It began as a series of business problem-solving workshops in the 1990s that Hirshberg presented around the country. They were premised on the goal of finding out the common paths and practices to entrepreneurial success by sharing his unlikely story.
Hirshberg has a remarkable tale to share. In addition to Stonyfield's growth from a seven-cow operation in Wilton in 1983 to more than $321 million in annual sales as one of the top premium yogurt companies in the world, Hirshberg has been one of the global leaders at creating a company geared to profit and responsible environmental and social stewardship.
"These were quick-fire workshops about very hands-on experience stuff," he said about the initial workshops, which were designed to help entrepreneurs learn from the mistakes and strategies of others. "We didn't want people to just give lectures. The heart and soul of the institute is storytelling."
But it's storytelling with a distinct, even tough-love, approach. The institute began to take its current "boot camp" form when Hirshberg joined forces with Michael Swack, a specialist in community development at Southern New Hampshire University who has since joined The Carsey Institute at the University of New Hampshire.
After an evening of sharing what Hirshberg calls "tales from the trenches" from successful entrepreneurs, the next day's session focuses on five or six tough case study assessments of actual participants who face questions from a panel about their business.
After a few clarifying questions, according to Swack, it's time for the entrepreneur/participant to sit back and listen.
"People find it informative because it really focuses on the things they care about," Swack said. "This is a very practical approach that's extremely dynamic and very structured with real information and real follow-up."
Finding inspiration
Virginia Jawidzik, president of 10-year-old Omega Smart Inc. in Londonderry, attended the institute for the first time in 2008.
"Our company was the first one in the hot seat, and we were chosen for a case study dealing with marketing challenges," said Jawidzik about her business, which makes organic nutritional bars and other organic products that promote healthy food choices. "It was a wonderful experience. I stayed alert through the entire event so not to miss anything. It was refreshing to hear all the trials and tribulations Gary went through while building his company into the great business it is today."
For Jawidzik, who was named the Small Business Administration 2008 Business Women Owner of the Year, the institute was a powerful experience. She was inspired by the storytelling and sharing that Hirshberg said is a crucial part of the institute experience.
"It encouraged me because I could identify with what he went through because I was, and am, faced with the same problems," she said. "I learned something from all the businesses that presented at the event."
Swack said that Jawidzik's need to bolster her company's marketing skills is typical of small-business development.
"It's fairly common with entrepreneurs," he said. "Small businesses are really good at some things but not so good at others. It's important to find out where the gap is — some are good at marketing, but have cash flow problems. Some are good at product development, but not strong at marketing. Part of what we do is help them identify what they're not good at."
Jawidzik said she would like to attend again when "I will be at a level in my own business where I will be listening for other tips in areas I didn't pick up on the first time around."
Steve Silverstein, president and founder of 10-year-old Tree-Free Greetings in Keene, has attended three times — including one time with his wife to help her understand what an entrepreneur goes through.
"It was great to hear about Gary's experiences," he said. "The format stimulates a lot of good thinking. There's a great sense of camaraderie for entrepreneurs, regardless of size or type of company. The strong feeling of passion you get from everyone is energizing."
Silverstein has found that one of the important lessons he learns is one you won't find in the program — just a day or two away from the daily business grind can make a big difference.
"The time away from my own company has helped me to think strategically," he said.
This year's institute will be somewhat different, Swack said. "We're aware of what's going on in the economy, and we are saying here are some things you can do in a really tough economy."
There will be important additions. After the formal presentation, social networking expert Katie Paine will offer a workshop on using social networking to enhance marketing capabilities for small businesses. And small-business owners will have the opportunity to use a new software platform that will allow them to band together for free — to create a large purchasing pool for a wide range of business services such as phone, shipping and supplies.
"These are the people you see every day in your community," Hirshberg said of the entrepreneurs who are vital to economic growth — and who continue to inspire him. "It's not all give on my part. I get a lot from the sharing at the institute and that's what makes it so special."