State's tourism industry adapts to trying times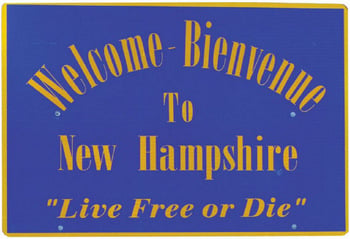 Just north of the luxurious Mount Washington Resort in Bretton Woods, where the New Hampshire Restaurant and Lodging Association held its annual meeting and expo earlier this month, is the hub of Coos County.
Lancaster's Main Street is looking good these days, despite the poor economy. The one vacant building — a large two-story 19th century property, belongs to Jude Gesel, and he's in no hurry to open it. "Who'd try to open it up at this time?" he asks rhetorically.
Last summer, he bought the more than 6,000-square-foot restaurant and lounge for a mere $40,000 at a bank foreclosure auction. The previous owner had it on the market for $349,000. Gesel observed this may be a better time to buy used food-service equipment than to sell food and drinks. For now, he's deferring his dream to open a restaurant.
Others in the restaurant and lodging industry aren't so lucky. They're in one of the most difficult industries during one of the most difficult times in recent memory. Industry leaders admitted as much when they gathered to discuss trends, best practices and commiserate with each other. The broad decline in the equity markets, along with plummeting real estate values, stagnant wages and higher food and energy costs, are pilfering the disposable income that fueled the $4.35 billion tourism sector, which is the state's second-largest industry.
The newly appointed president and chief executive of the Restaurant and Lodging Association, Mike Somers, acknowledged the tough times but added, "We all know that we are going to get through this," and now is a time to "get back to basics."
In the end, industry leaders predict that the strong and smart will find a way to succeed, and the overleveraged or unimaginative will be culled out, thus leaving greater market share for those that survive.
Dine down
Nancy Henderson of the Sunset Hill House in Sugar Hill and the new chairman of the Lodging and Restaurant Association, called the trend toward penny-conscious spending "dining down."
She added, "My tavern business is fine," but the very profitable fine dining business is off. Consumers are looking for values, and some are responding by making meals at home or purchasing increasingly popular take-home dinners offered at most grocery stores.
James Kaloyanides of New England Coffee Corp., reported that his firm's coffee distribution business has seen a shift from food service operations, like restaurants, coffee shops and convenience stores to retail operations. The State Liquor Commission has seen a similar trend, with "off-premise" liquor sales (made at liquor stores) increasing by 12.5 percent in the third quarter, while "on-premise" (restaurants, bars, etc.) declining by 3.5 percent.
Restaurateurs acknowledged that strapped consumers are cutting back on frivolous habits that can be easily denied or replaced, but that fundamentally eating out is part of the American lifestyle.
According to Chuck Rolecek, owner of C.R. Sparks Restaurant in Bedford, there are "so few pleasures" that are as affordable, accessible and pleasurable as dinning out.
Or, as Chris Fokas of Martha's Exchange in Nashua, said, dining out "is not a luxury. It's a way of life."
One thing is clear and troubling — restaurant and lodging revenues are decreasing, and their prime costs, like food, labor and energy, are increasing.
Michael Coyle, a business broker with CenterPoint Business Advisors and a former resort owner, said some owners are left with few options. Unlike the old days of easy credit, he said, "You can't refinance yourself out of problems." The options of selling aren't much better. Coyle estimated there are 150 restaurants for sale in New Hampshire, which he says accounts for "three to four years of supply."
Large lodging operations, which typically also have restaurants, are in a similar position, except they have more ability to diversify.
Larger resorts, like the North Country's three grand hotels — the Mount Washington Resort, The Balsams and Mountain View Grand — have diverse enterprises, including ski operations, day spas and real estate development. Group functions also provide an important part of their business.
Most importantly, these operations have the financial wherewithal to survive poor markets, and they have dropped prices to attract more customers, putting them in closer competition with smaller lodging facilities.
Alex Ray of the Common Man Family of Restaurants said he believes that in the current economy it's easier to save money than make it. So he has focused on improving efficiency at his 15 establishments, most of which are housed in older buildings owned by Ray.
Ray has benefited from the trend of buying and supporting local businesses, rather than national franchises. Ray said he frequently asks himself and others, "Where am I spending my money? (Is it going to) my friend and my neighbor?"
'Cautiously optimistic'
State tourism officials have been echoing this theme by encouraging people to "Vacation in your own backyard" and "Rediscover New Hampshire." They said they believe the best way to convince penny-conscious travelers to visit is to offer the best deal.
"You can get to anywhere in New Hampshire on a tank of gas," said Tai Freligh of the state Division of Travel and Tourism, adding that the state offers enormous geographical diversity and is in close proximity to the major population centers of the Northeast.
New Hampshire's grand hotels have long benefited from that proximity to some of the nation's greatest concentrations of wealthy individuals. Few know this better than Pat Corso, general manager of the Mount Washington Resort, who is engaged in an extravagant real estate development plan to create a series of replica historic villages near the property.
He said he's "cautiously optimist" these days and is energized by the coordination of the North Country's image under the theme of "Grand." He said he believes the trend toward "regionalization of travel" could prove to be beneficial, and recognizes several important factors that make the area appealing, including increasing air travel costs, less expendable income and the trend toward shorter stays.
Smaller operators are faced with more pressing issues.
"The goal is to put heads in beds," said Nathan Sicard, manager of the Extended Stay America Hotel in Nashua, which focuses on low-prices, few amenities and longer stays for the frugal business traveler. The hotel provides kitchenettes and allows patrons to "customize their stay" by paying for the amenities they want.
Others, like Portsmouth's Holiday Inn, have focused on creating packages for every imaginable occasion, from "Stay and Play" to "Lovers" weekends.
Sales manager Peter Steen said area hotels have met to coordinate marketing strategies as well.
"We're looking for any good reason to get people to stay with us," he said. When it comes to marketing, the adage, "everything works, nothing doesn't," seems to apply.
Steve Lambert of the Radisson Hotel in Nashua, jumped on the state Fish and Game Department's promotional package to pair hunters with New Hampshire lodging establishments.
New Hampshire's southernmost city seems an unlikely place to draw hunters, but that didn't deter Lambert, who offered a package deal coordinated with Fish and Game that includes a $25 gift certificate at a local taxidermist. The unlikely promotion has drawn a dozen hunters so far, but none has yet redeemed the prize.
"Maybe they have nothing to stuff," Lambert added.