State rep, shop owner Goyette dies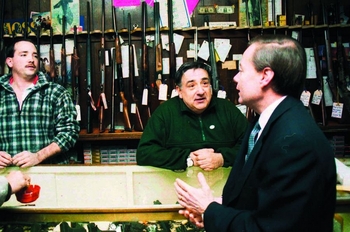 HUDSON – If you knew Rep. Peter Goyette, you probably knew how he felt about many things.
Goyette died unexpectedly Friday evening, leaving friends and loved ones to remember a man they said was never afraid to express himself and always committed to fighting for what he thought was right.
Goyette, 66, was on the ballot for today's Republican primary in Litchfield and Pelham because he was running for his fourth term in the state House of Representatives representing District 27.
He ran Pete's Gun & Tackle in town, which had become a political must-stop for any candidate who believed in the Second Amendment.
Dave Bettencourt, co-chairman of the House Republican Alliance, met Goyette when Bettencourt was elected in 2004."He was a guy who definitely left an impression on you because he was very passionate about the issues," he said. "Pete was definitely an outdoorsman through and through and that certainly showed through in his passions as a legislator."
Hudson Town Clerk Patti Barry said she will redact Goyette's name from Hudson ballots.
If he is one of the top vote getters after results are tallied, the candidate who missed election by the fewest votes would take over his spot.
Just a few hours before he died, Goyette was driving around the three-town district with his grandson, putting out election signs, according to his daughter, Michelle Johnson, of Litchfield.
Afterward, he went out to dinner with his wife of 42 years, Theresa, and watched the Red Sox game at home, Johnson said. Around 8:30 p.m. he went upstairs to say his rosaries, she said, and was found two hours later when his wife went upstairs.
Goyette had been healthy, she said. Doctors couldn't tell the family what killed him and the family is not interested in having an autopsy performed.
"He led a very good life. Let him rest in peace," Johnson said. "We're just doing what we can to recognize his life and his accomplishments."
Johnson described her father, who she spoke to at least twice a day, as a man who occasionally rubbed people the wrong way with his strong opinions, but one who was unflappably honest and committed to helping others.
"My dad told it like it was. He's not going to sugar-coat it," Johnson said. "He gave Concord a run for their money, I have to say. He stood his ground and he fought for what he believed was right in his heart."
As owner of Pete's Gun & Tackle, Goyette was involved in local fish and game clubs and spent time with several charities, as well, Johnson said. He was known for organizing an annual handicapped fishing tournament and delivering dinner to elderly residents on Thanksgiving, she said, but he also helped dozens of others in smaller, unseen ways too, sometimes by lining up a target practice session at a gun range or teaching them how to fly fish.
"He just loved anything you wanted to learn that he knew," she said.
It was that spirit that led him to Concord, Johnson said.
"He was there because that's what made him feel good," she said. "It made him feel good to be able to help others. There was not a selfish bone in that man's body. It was just what he loved to do."
Fellow Hudson Republican Rep. Jordan Ulery visited the gun shop many times since he met Goyette in the early 1970s. He fondly remembered Goyette's stories about his hunting trips in Canada and catching fish that were "this big!"
"He's the kind of guy you like to hang around and hear stories about this and that and everything else," Ulery said. "He as an avid hunter and fisher and he really wanted to see (the state Department of) Fish and Game well managed and well run."
Ulery and other legislators also remembered that, while Goyette didn't often speak on the House floor, he fought vociferously for his neighbors' rights.
"He made himself really known to individuals. He was clear on where he stood and why. He would argue the issue, not the personalities," Ulery said. "You knew where you stood with Pete all the time, which was refreshing."
Rep. Lars Christiansen, R-Hudson, knew Goyette for about 30 years.
"He was straightforward. He would tell it like it is. He would fight for his constituents against any state agency," Christiansen said. "He wasn't afraid to speak up. He wasn't afraid of anybody. That's the kind of guy he was. Fight for what's right. Fight for the little guy."