State celebrates 45 years of lottery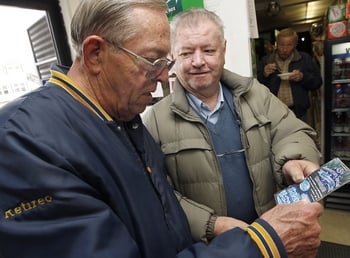 NASHUA – Rafael Antonio Almonte illustrated why the state lottery just celebrated its 45th anniversary.
Almonte quickly rubbed a nickel across the latex boxes of two Lucky 7 scratch tickets and won – as he succinctly put it – "nothing."
"I never win," the Nashua resident said Wednesday.
But just as fast as he bemoaned his $2 loss, he hustled back to the sales counter at the Kozy Korner
convenience convenience store and purchased more tickets.
This time, Almonte had a winner: Lucky 7 paid out one hefty buck.
"See: dollar. I'm lucky. Wow," he exclaimed.
Almonte then combined his winning ticket with two more dollars from his pocket to buy three Cat Scratch Fever tickets. He was back to form: Nothing.
The state Lottery Commission loves people like Almonte – dreamers who stake dollars upon dollars for the minimal chance of winning back their money and maybe a bit more.
For 45 years, as of Thursday, the state lottery has offered a dream to chase with some form of gaming, whether with the high-payoff, bouncing-ball sweepstakes or smaller-winning scratch tickets.
The lottery has recorded $4 billion in sales and earnings, with $2.5 billion paid back in prizes and other sales costs, the commission said. The net proceeds over the past four decades has placed more than $1.4 billion back into state education.
"Everybody knows someone who's hit something," Kozy Korner owner Ronald Desfosses said Wednesday of why Almonte and many others keep coming back for more.
On Thursday, the Lottery Commission celebrated the 45th anniversary at Kozy Korner and 12 other stores across the state with cake and prizes.
The first state lottery ticket was sold with just as much fanfare. Its sale meant that New Hampshire was the first state to run its own lottery.
On March, 12, 1964, Gov. John King bought that first ticket for $3 – for a chance of a prize between $200 to $10,000. King, who signed the lottery legislation into law, didn't win.
Like the former governor, Nashua resident Ken Franks would like to hit it big just once. But unlike Almonte, Franks doesn't play as often.
He is concerned about his recent streak. In the last 10 Powerball games he has played, Franks hasn't had even one of the balls with his numbers bounce out of the spinning wheel.
"It's a dream. People think, 'Someday, it's going to happen,' " Franks said.
For 25 years now, Almonte has been betting the odds that he'll hit big someday. He gets frustrated with his frequent losses. But he continues to spend anywhere from $5 to $25 a day.
"I play a hundred dollars and maybe win a dollar," Almonte said of his loss-to-win ratio.
The lottery sells between $3-to-$4 million weekly through 70 instant-scratch tickets, and more than $1 million each week in the jackpot games like Powerball and Megabucks. On Monday, a five-dollar Red Sox instant ticket will be sold.
Just once, Desfosses would like to hit a homerun with Powerball.
For the past six years – since his father, Maurice Desfosses died – the storeowner has played his numbers and his dad's numbers.
Desfosses joked that his father must not be asking God to help his son win.