State apologizes for job fair snafu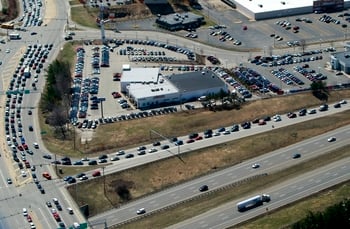 MANCHESTER – Organizers of today's statewide job fair have issued an apology to job seekers who were turned away when more than 10,000 participants, or double what was expected, showed up.
"These are challenging economic times and there was an unprecedented turnout of job seekers," a statement from the organizing committee said. "Thankfully, thousands of job candidates from throughout the state and beyond were able to meet with employers and we know that many valuable career connections were made as a result of this event."
The Project Economy Job and Career Expo was organized by WMUR, Southern New Hampshire University and state officials.
The event was scheduled to run from 10 a.m. to 3 p.m. at Southern New Hampshire University in Manchester. The university parking lot was full by mid-morning, and the overflow parking at the Mall of New Hampshire filled up around noon. Hundreds of job seekers waited an hour or more in lines to board shuttle buses.
Shortly after noon, the job fair was closed to newcomers.
Organizers also announced plans to host another job fair within the next few months. In the meantime, the state is encouraging job seekers to visit the new Job Match System Web site at https://nhworksjobmatch.nhes.nh.gov/.
-Ashley Smith