State aids struggling companies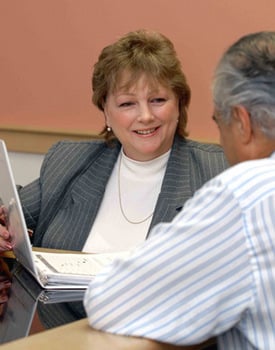 As one who works for an agency whose acronym rhymes with the word "dread," Fran Allain is sensitive to the kind of impression an unfortunate name might make. Allain is relatively new to the state's Department of Resources and Economic Development, having come on board five months ago in a new position as the Division of Economic Development's employee retention project manager.
"I'm really a layoff aversion specialist," she explained. "But if I tell a receptionist that, it might sound a little scary. The rumors would really start flying."
Allain's job is to offer assistance to struggling companies in the hope of either avoiding layoffs or at least minimizing their impact. Even in a slow economy, the problems plaguing many companies don't always have to result in a downsizing of the workforce, she said.
"It might be an increase in the cost of items or there might be internal systemic issues" that are cutting into a company's profit margin, Allain said. DRED and other agencies are looking to help. "Many employers are not aware of what's available to them," said Allain.
For instance, the New Hampshire Manufacturing Extension Partnership can come in and audit a company to discover cost savings opportunities, she said, and will train both management and workers in "lean manufacturing" techniques to help streamline operations.
Likewise, "PSNH will come in and do energy audits to see how much a company can save on its energy costs," she said. Six business resource specialists at DRED, each serving a different part of the state, are available to call on companies and connect them with programs that can help them grow their business.
While DRED also works on drawing companies in other states to either relocate or expand into New Hampshire, "a majority of our resources go to in-state support services," said Michael Vlacich, director of the Division of Economic Development. "That's where a majority of our economic growth will occur." Economic development personnel spend most of their time with companies that are "on the move and expanding," while Allain is focused at helping "at-risk" companies find the assistance they need, Vlacich said. "She will also work with other agencies like the Department of Employment Security and the community colleges to help with workforce needs."
Options for help
Allain's position is funded by the New Hampshire Workforce Opportunity Council, created by the federal Workforce Investment Act of 1998.
The council's executive director, Mike Powers, said companies may find the help they need in the form of a loan from the state's Business Finance Authority or with agencies like the Small Business Development Center that can help a company develop a new business plan. Or it may come from investors who can be sold on the company's potential.
"We might find companies that will put money in your business that will help you stay afloat and help you with your creditors," Powers said.
Other companies may find the answer to their problems on the other side of an ocean or across international boundaries. ("New Hampshire's exports are increasing faster than any other state in the East," Powers said.)
Companies looking to sell their products in overseas markets can find assistance at the International Trade Resource Center, another DRED agency. The Business Resource Center at DRED also can help companies break through the red tape involved in selling to the state or federal government.
The state Legislature last year approved moving $1 million annually from the Unemployment Trust Fund into a Job Training Fund, administered by the Workforce Opportunity Council. The program provides matching funds for companies that will spend additional money to help employees acquire new or improved skills.
The first grant was approved last November. By the end of June, the agency had awarded more than $918,000 to 37 companies that spent more than $1.3 million on job training for 1,701 employees.
Training programs have included classes in computer-aided manufacturing, computer numerical control and English classes for non-English speaking workers. Velcro USA in Manchester received a grant of $84,000 to go with the $126,000 the company is spending on a technical communications management project with the Whittemore School of Business at the University of New Hampshire.
Smith Medical in Keene received an $83,000 grant supplementing its expenditure of $228,000 to train employees in electro-mechanical systems. Hypertherm in Hanover is spending $250,000 and receiving a $100,000 grant to teach its employees computer numerical control.
The grants are available to companies of any size and financial strength, said Powers.
"A company with five workers that's struggling on a day-to-day basis may not know of all these resources," Powers said.
It's Fran Allain's job to change that.
"Right now, I'm on a campaign to communicate with as many people in the state as possible to let them know that this service exists," she said.
Information and advice
A part of the management team of Digital Equipment Corp.'s Merrimack plant in the early 1990s, she went through layoffs "from both sides of the desk," first laying off employees in her department.
"It was really hard because these are the people who worked so hard to create the success of the company." Then came the news of her own imminent departure.
"You get very connected to your work. It becomes part of who you are. I certainly expected at that time that I would retire from Digital. It was really devastating, especially when I had to hand in my badge. That was the hardest thing I did."
It was not the best of times to be reintroduced to the job market. "Employment limbo is tough," she said, and the signs of a deepening recession were everywhere.
"I would drive down the street in Merrimack and see every other house for sale or in foreclosure," she said. She worked as a freelance photographer for a year and half, then decided to go back to school. She went on to earn her master's with a thesis on "The Psycho-Social Effects of Layoffs." She taught psychology and sociology courses at both the high school and college level and worked as marketing director for a mortgage company before finding her current position advertised on the Department of Employment Security Web site.
"After I read it, I said 'You've got to be kidding.' I couldn't believe it. It's exactly what I'd hoped to be doing."
A major part of her work is focused on management/employee relationships at financially troubled companies. Open communications, she advises, can help avoid the perception that things are even worse than they are. Employers need to pay attention to changes in the attitudes and behavior of employees during a downturn in the business, she said. "Absenteeism, reduced productivity. All these are signs that something is wrong with the staff." When a layoff can't be averted, it should be undertaken with the recovery phase in mind, said Allain.
"You look ahead at what you want it to be like and who you have on staff now that can help you get there. Maybe you shouldn't lay off someone you're going to need in the recovery phase."
The way a layoff is handled can have an effect on the morale and productivity on the entire company, she said.
"Those employees who remain are going to be the ones they depend on to help them." Negative feelings toward management can delay or derail recovery in the post layoff period, Allain said.
"The state isn't there to tell you how to do this," she said, but "we can offer some information to think about."
Fran Allain can be contacted at the Department of Resources and Economic Development by calling 603-271-2341 or e-mailing frances.t.allain@dred.state.nh.us.