Squad confronts city's problem areas head -on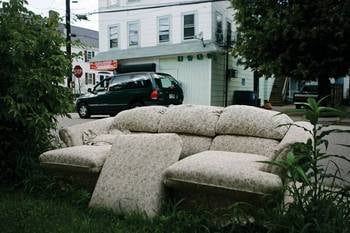 A cop, a former private eye, a building virtuoso, one germ warrior and some extra picky firefighters. Meet the city code team – a tactical unit of specialists from four departments brought together to confront the most difficult neighborhood issues.
Nashua's code team has been operating behind the scenes for almost a decade now, making itself known mostly to area landlords and property owners, who sometimes call it by its other name – The Oscar Team.
"They call us that because the Sesame Street character, Oscar, is always a grouch," said city codeenforcement officer Nelson Ortega, a member of the group that has the power to generate grouchiness among some city landlords or tenants, depending on what they find.
Code enforcement officer Tom Malley, city police officer Craig Hammond, deputy health officer Heidi Peek, and various members of the city Fire Marshal's office make up the rest of the team that has worked together since 1999 on difficult or pervasive neighborhood problems. Extremely filthy apartments, dilapidated buildings, drug-dealing tenants, abandoned cars and uncollected trash are all within their jurisdiction.
Ortega and Hammond, the two initial members, credit former Nashua Police Chief Donald Gross with promoting the idea of an inter-departmental task force to tackle such problems.
At the time, it was becoming evident that buildings with code issues were often problems for police as well, Hammond explained.
"Chief Gross saw the correlation there and realized that there was no communication between the departments," Hammond said. "Everyone kind of operated on their own, independently, without any real communication. There was a lot of duplication of effort."
Initially assigned as a liaison to the code department, Hammond began working full time on community police issues.
Ortega, a former private investigator from New York City, had just been hired to the code department at that time and, under Gross's recommendation, was sent to the police academy to obtain police credentials to bolster his work on the team.
His partner, Thomas Malley, a builder experienced enough to be nicknamed "bricks and sticks" by his peers, had already been with the city for more than a decade at that time and quickly became a valuable member of the team.
Peek, the city's deputy health inspector, was not a member initially but soon joined because of the many environmental and health-related issues the team routinely encountered at buildings flagged for inspections.
The city's current fire marshal, Rick Wood, and his predecessor, Mike Vacarro, have also been involved from the beginning, along with other fire inspectors. "We work very closely when there is an issue," Wood said. "We band together and try and handle it as a city instead of an individual entity."
In the beginning, Hammond said he and the other team members first studied each other's departments to identify duplication. Then they began organizing a system for inspections, often at once-a-week meetings.
"One of the first things we did was to identify addresses throughout the city," Hammond said, adding that the most pressing problems they found were in the Tree Streets.
"We actually had identified specific, well, slumlords, I guess would be the best term," he said.
Major problems found early on included illegal apartments, usually single-family homes that had been made into multiple unit buildings with no permits obtained or inspections done on the completed work.
By matching up the addresses and complaints from the code department with police data, Hammond said it became apparent to the team that the illegal units correlated with policing issues in those neighborhoods.
"It would run the gamut," Hammond said. "There would be things like loud music. Drugs often accompanied that problem in those low-rent districts. Parking issues, everything you could imagine that that would relate to density. When you put too many people in too small an area and you don't do it legally, issues arise."
The data took months to enter into the police computer system, Hammond said, but once it was done, the team had a list of more than 100 addresses that they prioritized by issue.
During those first months, Hammond said he and Ortega attended workshops and seminars, learning how other city code teams operated and the various problems the teams encountered. When they finally hit the streets, Nashua landlords weren't so happy to meet them, Hammond said.
Working the system
At the time, some of the worst landlords were known to code enforcement, but for years they had managed to work the system. Hammond's police authority, however, allowed him to issue summonses for violations to the landlord, on the spot.
"So what the police department brought to the table was immediate results that way," Hammond said. "For the first time, landlords were getting summonses to appear in court, and they were just shocked."
The tenants of the problem buildings were often grateful to learn their buildings were getting inspected they and cooperated. "They knew we were mostly there on their behalf," Hammond said.
Word got around that the team was taking area landlords to court and soon after, tenants reported that things were "getting done," he said.
While some team members have complained that politics interfered with their work in the past, a police officer on board ensures that the code team can work objectively.
"I don't care if it is an alderman's residence or if he is the landlord for the mayor or anyone else," Hammond said. "I work for the police commission. I don't answer to the city employees. That is not the same for code enforcement. They are City Hall employees. They are not insulated from interference like I am, so there is a lot to be said for that when you are taking enforcement action against people in the city."
In June 2006, the code team made that clear when they inspected rental property at 4-9 Ash Court owned by Russ Marcum, a longtime Nashua building inspector. Marcum, who lives in Hollis, was cited for 17 violations.
Among the violations were a missing smoke detector, a broken hot water tank, temporary beams holding up a porch, holes in the walls and a toilet that was not bolted to the floor. Marcum was given 15 days to fix the violations.
Although landlords were the main focus for the team early on, tenants have been at the root of some the worst problems.
Mentally unstable adults living in filth – sometimes extreme conditions with hoarders living among piles of trash, animal waste and even human waste – can turn a building into a health hazard for tenants and their neighbors.
Just last summer the team shut down a two-family rental on Summer Street that had been foreclosed upon and abandoned by the owner, but tenants were still living within.
The property, a single-family unit that had been split into two, was without electricity when neighborhood complaints led to an inspection.
Inside, the team found one of the units strewn with animal feces from a dog that the former tenant had left behind. Although the stench reached outside, a mother and child were found to be still living in the other unit. The team posted the building as unsafe – one of the more extreme actions the team can take.
"We try not to displace people, which is really kind of a balance," Peek explained. "Is this fit for human habitation? That is the question we ask . . . Is it safe for them to stay and get their belongings out? Is it safe for them to stay a couple of days? You make those decisions based on what is going on."
Some situations require the immediate removal of people from a building. One such call, involving a mother and her young children, still haunts Peek.
"That was my first condemnation," she said. The basement of the home was covered in raw sewage that the family had been traipsing through for some time.
"There were seven kids. It was a horrible weekend for me. I took it home. I will never forget their little faces looking out of the window."
The landlord picked up the rent check personally every month, Peek said, but made no effort to fix the plumbing emergency.
"They come and collect the rent checks and kind of deliver blind permission to do what you want," Peek said.
The drug connection
Peek is quick to add that many landlords that are extremely conscientious. "You will have landlords who are horrified at potential drug- or alcohol-type things going on in their property," she said.
The team discovered a consistent connection between drug-related activity and poorly kept buildings. In some cases, tenants with clean records would apply to live in buildings and the landlords would never see them again. Instead, a dealer would move in and pay cash to the landlord, who would ignore the obvious signs of drug dealing as long as the money was coming in.
"We brought accountability to some of these places and some of the drug houses were forced out of business because of that," Hammond said.
Abandoned cars clogging the city streets was another issue that occupied Hammond for months on. "There were cars everywhere," Ortega attests, describing how vehicles would be found left on properties, tires flat from sitting for so long.
Tow truck drivers would take the cars to the landfill, Hammond said, but there were so many it was beginning to cause problems there as well.
"There was no policy to speak of," he said.
Eventually Hammond was able to draft a contract between the city and the Nashua Towing Association that streamlined the process of removing cars from city streets.
"All the officer has to do now is green tag the car," Hammond said, explaining that from that point the car information goes into the police computer system and the registered owner then gets summonsed.
"I would say after six months, the difference was remarkable," Hammond said.
Despite such progress, Hammond has recently had to streamline his work with the team due to staffing issues at the police department.
While he remains in charge of clearing abandoned cars from the city streets, a bedbug epidemic and other housing issues continue to keep the rest of the code team quite busy.
"That river just doesn't stop," Peek said.