Spring is in the air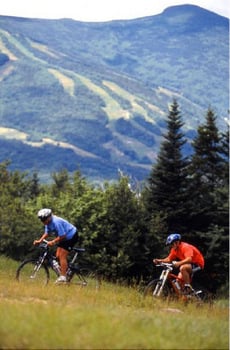 New Hampshire is known as a destination for hiking in the summer, leaf-peeping in the fall and skiing in the winter, but spring — not so much.
Spring is something of an off season in New Hampshire, and as seasoned travelers know, that's when the best deals are to be had.
Before the black flies and the summer people arrive, check out these special packages, just a few of what's available during springtime in the Granite State:
• Waterville Valley — All-inclusive packages from $99 are available at the Golden Eagle Lodge, with similar deals at the Square Condominiums, Black Bear Lodge, Village Condominium and the Snowy Owl Inn. Shop in the Town Square. See vernal pool and salamanders in the miles of trails in the White Mountain National Forest. Bike or hike into the White Mountains National Forest from your hotel and explore the ridgeline, rock formations and vistas. This package is available March to May. Visit golden-eagle.com.
• Cranmore Mountain Lodge — Lots of snow means lots of snowmelt. All this runoff promises to make some of the best waterfall viewing in years. EMS guides will lead extended hikes to view these natural wonders. When you're done, relax in the hot tub or one of the reading rooms. Weekend packages April through early June start at $327 for two. Contact EMS Adventures, Treks & Trails, emstrek.com or 888-755-TREK.
The lodge also has specials for those of us who've put on a few extra pounds during our hibernation. Try Fatpacking in the White Mountains — backpacking for weight loss. Not for the faint of heart, you will really work those love handles, but we're sure its much more scenic than the guy in front of you in your spinning class. Packages start at $1,175 per person. Contact Fatpacking.com or 781-773-1115.
Retire to the notches
• AMC Highland Lodge Crawford Notch — The AMC Highland Center, noted for its environmentally sensitive construction, has mid-week specials just for those 50 and older. Overnight package includes lodging, dinner, breakfast, and a choice of buffet or trail lunch, access to daily programs, and activities geared toward people of all ages and ability levels, plus complimentary use of gear from the L.L. Bean Gear Room. Packages start at $87 for members, $117 for non-members. Contact outdoors.org/highland or 603-466-2727.
Just for us
• Wentworth by the Sea — This historic grand hotel has a special just for New England residents. These mid-week packages include deluxe accommodations, a $50 spa gift certificate and lunch for two. Rates start at $99 per person, per night, Sunday through Friday. Through April. Contact wentworth.com or 866-240-6313.
Mud season madness
• Snowvillage Inn — Spring is also known as Mud Season. The ground may be sloppy, but the inn is cozy. Packages include accommodations, a full country breakfast each morning, dinner by candlelight each evening with a mudslide to start and mud pie for dessert. Rates from $199 per person, through April (weekends only). Visit snowvillageinn.com, or 800-447-4345.
• Riverbend Inn Bed & Breakfast — Mud and massage are the specials here. You'll get two nights in a deluxe king-size room, plus breakfasts (featuring Mud Coffee Cake and Muddy Parfaits), organic mud masks, two 60-minute massages and mud-covered strawberries (chocolate dipped, actually). Packages start at $499 for two, through May 22. Contact riverbendinn.com or 800-628-6944.
Spend the refund
• Wildflowers Inn — You worked so hard on your taxes (and, no, a B&B weekend is probably not deductible), you deserve to relax. Wildflowers Inn offers one- or two-day packages starting at $225 (mid-week) for two people in a Jacuzzi suites or $160 (mid-week) for two people in deluxe queen rooms. The package includes full country breakfast, $50 gift certificate good at local restaurants, and taxes. Most rooms with fireplaces. Through April 30. Contact wildflowersinn.com or 866-945-3357.
Golf
• Bernerhof Inn — Enjoy 18 holes, two nights and one gourmet dinner at this Glen getaway. Packages include two nights accommodations in deluxe Jacuzzi spa room, full country breakfast each morning, gourmet dinner one evening of your stay, a welcoming cheese and wine tray, 18 holes for two players with shared cart at one of the nine courses in the area. Some exclusions apply. Rates start at $429, April 20-June 20. Contact bernerhofinn.com or 800-548-8007.
• Colonial Motel — This mid-week package starts at just $50. Tee off at one of eight area courses. Package includes one or two nights lodging, a mid-week round of golf and cart. Amenities include wireless Internet, free coffee, cable TV, refrigerators, microwave, rooms with whirlpool tubs, king beds and outdoor pool. Available through June 20. Contact thecolonialmotel.com or 866-356-5178.
Diehard skiers
• Mount Sunapee — Those who just can't say good-bye to winter know that spring skiing is some of the best available. Mount Sunapee has over 25 ski and stay packages at surrounding boutique hotels, inns and B&Bs. Mid-week prices start at $77, weekends at $139. Packages, prices and exclusions vary by property. Contact mountsunapee.com or 603-763-3500.