Spartans OK deal to sell building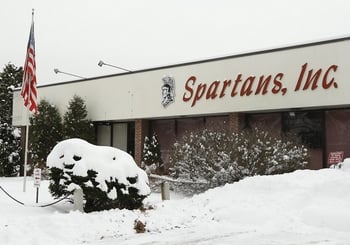 MANCHESTER – Spartans Drum and Bugle Corps officials have signed an agreement to sell their Nashua headquarters for $915,000, but a bankruptcy court judge has allowed the bank to foreclose on the property if it chooses.
At the same time, the U.S. Trustee's office has asked the court to appoint an independent trustee to either oversee the bankruptcy case or convert it from reorganization to liquidation, court records show. A hearing is scheduled Wednesday afternoon in U.S. Bankruptcy Court.
On Monday, Judge Michael Deasy ruled that Bank of New England could foreclose on the Spartans building at 73 E. Hollis St., Nashua, because the Spartans had failed to make a monthly payment.
The Spartans' lawyer, Eleanor Dahar, objected that foreclosure proceedings might scuttle a deal to sell the building, and it's unclear whether the bank plans to proceed.
The bank's lawyer did not return a phone call Tuesday, but has previously said the bank would give the Spartans time to sell the building.
Spartans Director Paul LaFlamme Jr. also could not be reached.
Dahar claims the Spartans have a signed purchase agreement, with a projected closing date of June 1 and a sales price of $915,000, more than enough to pay off the mortgage in full. Dahar did not include a copy of the agreement or disclose who wants to buy the building, however.
Previously, the Spartans have said they had offers from the PLUS Co., Harbor Homes and Lamprey Health Care, but all were for lesser sums. Nashua Mayor Donnalee Lozeau has said the city was looking into a partnership with Lamprey Health Care to buy the building.
The Spartans, a nonprofit organization, was established in 1955. It has won numerous national awards for its drum and bugle performances over the years, including participation in five presidential inaugural parades.
Perhaps more importantly, it has devoted countless hours to teaching the values of self-confidence, dedication and teamwork to thousands of young people in Greater Nashua
Former Spartans Director Peter LaFlamme blamed the economy when the organization first filed for Chapter 11 bankruptcy last fall. LaFlamme has since stepped down after board members, including his own nephew, accused him of mismanagement.
The current director has said the board members are trying to draft plans to reorganize, but the U.S. Trustee's office has asked the court for permission to intervene and raised doubts about the plans filed so far.