Spartans looking for buyer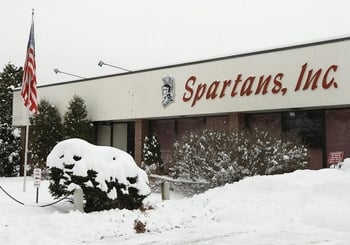 MANCHESTER – The Spartans Drum & Bugle Corps hopes to find a buyer for its headquarters building in the next week, and may also sell off uniforms and other equipment to pay its debts, the group's bankruptcy lawyer said Wednesday.
Director Peter LaFlamme blames the economy for the group's downfall, but a lawyer representing one of the Spartans directors said that LaFlamme's nephew, Paul LaFlamme, and two other directors suspect that Peter LaFlamme himself may be to blame.
"They have a litany of complaints against Peter LaFlamme . . . and they don't believe he should be running the organization," attorney Leonard Deming of Nashua told Bankruptcy Judge Michael Deasy during a hearing in federal court Wednesday.
Paul LaFlamme and some other directors accuse LaFlamme of mismanaging the group and failing to provide adequate information for the board to oversee the group and its finances."We have no idea why they're in bankruptcy, except that they had a lot of money and it's not there anymore," Deming said.
Meanwhile, LaFlamme said after Wednesday's hearing that he hopes to keep the decades-old Nashua institution alive, though he has no firm plans for how he might do so.
For more information:
For now, the organization has been shut down completely and only the bookkeeper is being paid, said the Spartan's lawyer, Eleanor Dahar of Manchester.
The only debts still accumulating are mortgage payments and property taxes, she told Deasy.
If LaFlamme enrolls any members this year, Deasy said any money the organization takes from individuals must be put into escrow and kept separate from any other accounts.
Spartan members pay $1,000 or more in tuition to belong to the group, Dahar said.
A hearing is scheduled next week on a request by Bank of New England to foreclose on the Spartans' Hall at 73 E. Hollis St., but the Spartans hope to negotiate with the bank to sell the property beforehand, Dahar said.
The group has two offers, though both fall short of the $815,000 owed on its mortgage, she said.
The Spartans could sell off various equipment and other assets to cover the rest, she said.
The Spartans bought the building in 2005, with a mortgage of more than $1 million, court records show. The property is now assessed by the city at $936,500, but the Bank of New England estimates its current market value at around $800,000, court records show.
The Spartans were trying to sell the building before the bank foreclosed and got some interest from a local church, a Manchester lawyer, and an abutting property owner – but had no definite offers, according to a Nov. 13 report by Concord lawyer Todd Fahey. Fahey was appointed to temporarily oversee the Spartans at the request of the state attorney general's charitable trust division.
The attorney general's office has since dropped its oversight of the organization, lawyers in the bankruptcy case said, in part because the Spartans can't pay the receiver and in part because of the bankruptcy.
"They're content at this point, so long as there's a court overseeing things, to let this proceed," Dahar said.
In addition to the drum and bugle corps, the Spartans used to run a charter bus company and a popular bingo game, but both have been shut down.
Last year's public smoking ban helped snuff bingo revenues, LaFlamme said, and the economy took a toll on the bus and corps business. According to Fahey's report, only one of the group's five busses still runs, and bingo revenues had been falling for two years.
The bank and the City of Nashua are the Spartans' largest creditors, owed for the mortgage and property taxes, but both can be paid through the sale of the Spartans Hall and other assets, Dahar said. There are some 20 to 30 other creditors, all owed only small sums, with the exception of Citizens Bank, she said. According to court documents the Spartans owe Citizens $88,754, which Dahar said is credit card debt.
Peter LaFlamme himself hasn't drawn a salary from the Spartans since October, he said after the hearing. How much he was paid before that point is unclear.
Deming said there are records showing LaFlamme was taking $700 a week in salary during a time when the Spartans were reporting to the IRS that he got no income. There are also indications that Spartan funds were used to pay individual credit card debt, he said, but it's not clear whose.
"We don't feel that he has been forthcoming," Deming said, adding, "We're trying to get the U.S. Trustee's office to take a good, long look at this."
The U.S. Trustee is an arm of the Department of Justice, assigned to represent the public interests in bankruptcy court by monitoring the process and investigating potential fraud.
Nonprofit groups are required to publicly disclose some documents, including IRS 990 forms. The Spartans' 990 forms available online show that LaFlamme received $2,100 in compensation in 2004; $7,700 in 2005; $1,518 in 2006; and nothing in 2007. The group's 2008 form is not available, and may not have been filed as yet.