Spartans: Band will play on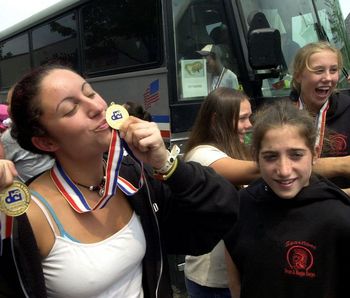 NASHUA – Despite the group's financial woes, the Spartans Drum & Bugle Corps is moving forward with recruiting new members and planning performances for the 2009 season.
In November, the Spartans, a nonprofit organization, filed for Chapter 11 bankruptcy protection, which allows for a business or organization to continue operating while reorganizing and paying off its debts.
Peter LaFlamme, executive director of the organization, said that although the group is continuing with its bankruptcy proceeding, things are moving forward as they would any other year.
"When people see the word 'bankruptcy,' the first thing they associate with that is that it's gone, it's over," LaFlamme said. "But that's not what it is."
The Spartans have a camp and open session scheduled for this weekend. LaFlamme said he is also looking at possible parades and competitions to participate in this summer.
"We've kept the corps alive this way," he said. "There will be a drum corps next year."
Albert LaFlamme, Peter LaFlamme's father, founded the Spartans in 1955. They have gained a reputation as a prestigious performance group, winning numerous national awards.A hearing is scheduled Jan. 21 at United States Bankruptcy Court in Manchester to review the status of the Spartans reorganization plan.
When asked how the organization fell into such dire financial straits, LaFlamme said the economy was a major factor. The organization's bingo events and charter bus service were not bringing in as much revenue as in the past, he said.
"Many factors contributed to the financial position we were in," he said. "Then when the economy got so bad, it just clinched it."
According to court documents, the Spartans were nearly $40,000 behind on payments for Spartans Hall, located at 73 W. Hollis St. The organization also had $140,000 in unpaid credit card bills to Citizens Bank, among other debts.
LaFlamme said they had a buyer for the hall in August, but once the market crashed, the buyer backed out.
Bank of New England had scheduled a foreclosure sale on Spartans Hall for Dec. 4, but LaFlamme said the bankruptcy filing prevented that sale from occurring.
The hall will now be sold to the highest bidder, which will be announced at next week's bankruptcy court hearing, LaFlamme said. Bids are being accepted now, and whatever money is raised will be used to pay off debts, he said.
The hall is valued at $936,500. The corps owes $811,000 on the property.
The bankruptcy filing came after the state attorney general's office Charitable Trusts Unit filed a petition Oct. 27 to remove the Spartans board of directors and replace it with a receiver.
In its petition, the Charitable Trusts Unit alleged that the Spartans board of directors failed to properly oversee its finances.
Other allegations included allowing personal use of business assets; use of credit cards without adequate documentation for reimbursement; and issuance of checks in advance, with no documentation of the purposes for which the checks were issued.
In one instance, the Spartans failed to document reasons for payment of an outstanding balance of $8,388.39 in the name of an employee on his personal credit card, according to the filing.
Michael DeLucia, director of the Charitable Trusts Unit, said his department began investigating the Spartans after the organization failed to file an audited financial statement.
"That raises certain red flags and that is what caught our attention in the first place," he said.
Charities that raise more than $1 million in annual revenue are required to file an annual audited financial statement, DeLucia said.
LaFlamme said the Spartans did not conduct an audit because they could not afford to hire a certified public accountant. When asked about the state's allegations, he said much of it was a result of "miscommunication."
DeLucia said the state's case is ongoing and will depend on what happens in the bankruptcy proceedings will determine what happens next.
LaFlamme said he intends on staying on as executive director in the future. He said the plan for the Spartans' reorganization will be shared at the bankruptcy hearing.
The Spartans board of directors includes several members of the LaFlamme family. According to court documents, a rift had grown among some members of the board.
"It's very common for boards to be dysfunctional," LaFlamme said. He added that it was the minority of the board that wanted to do things differently that "fouled everything up."
"You get people who feel they can do things better," he said. "I think it comes down to envy. I think some people needed more recognition."
Paul LaFlamme Jr., a member of the board and Peter LaFlamme's nephew, said he didn't believe any disagreements among board members led to the Spartans financial situation.
In court documents, LaFlamme Jr. said he was one of the three members of the board that had requested reviews of the organization's finances, but who were overruled by the majority.
LaFlamme Jr. said he was concerned that the board of directors hadn't implemented proper financial oversight, with checks and balances.
"It makes me sick to my stomach to see my grandfather's legacy in such disarray right now," he added.
When asked if he plans to stay involved with the Spartans, Paul LaFlamme Jr. said he hopes to, but said there would need to be changes when it comes to oversight of spending.
If the Spartans can come up with an effective reorganization plan, LaFlamme Jr. said it could still come out of bankruptcy a viable organization.